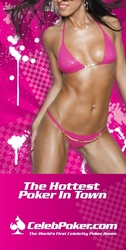 Team CelebPoker is a fantastic concept and has even exceeded our expectations
London, UK (PRWEB) September 21, 2007
From day one, Team CelebPoker had generated tremendous excitement throughout the poker world with thousands of online poker players heading straight for the tables. Qualification for the final stages was tough and the standard of play over the final weekend was electric.
Eventually, in the early hours of Monday 17th September, the final member of the exclusive line up was discovered - the eight lucky winners will now do battle with some of the top poker players in the world, at the live EPT events in London (UK) and Baden (Austria), for millions in prize money.
The eight new faces of Team CelebPoker are:
S. Hollaar (playing at EPT London)
T. Wolfer (playing EPT London)
R. Schut (playing EPT London)
D. Anadon (playing EPT Baden)
C Kibler-Melby (playing EPT Baden)
C. Hohendorf (playing EPT Baden)
E. Halvorsen (playing EPT Baden)
T. Koguc (playing EPT Baden)
Poker Room Manager, Linda Donovan, commented:
"These players are to be congratulated on this incredible achievement. Gaining a slot on the first ever Team CelebPoker is a real honour and, consequently, the competition for places was fierce. We have had thousands and thousands of entrants from all over the world and these eight players represent the hottest online poker talent around. I am convinced they will be a real force to be reckoned with at the EPT."
The success of Team CelebPoker proves that, for online players, there's nothing quite like the prospect of testing their poker skills in a major live tournament. Indeed during recent years, a number of online poker players have made the transition and proved themselves worthy winners at many high profile live events.
"Team CelebPoker is a fantastic concept and has even exceeded our expectations," Donovan continued, "It doesn't stop here either… we will continue our search for the best online players and provide them with further opportunities to compete in the world's top live events and become the next poker celebrity!"
About CelebPoker.com
CelebPoker.com is an exciting, fully licensed and regulated online poker room dedicated to providing the ultimate poker playing experience to the worldwide poker community. CelebPoker's realistic and player-friendly software offers a wide range of poker tournament and ring game play, including sit 'n' go tournaments and offering prizes as high as $250,000. For more information, please visit CelebPoker.com
More About Team CelebPoker
Team CelebPoker provides the unique opportunity for ANY CelebPoker player to represent CelebPoker at a major international poker tournament. Become part of Team CelebPoker and play live in Prague, Monte Carlo, Las Vegas and beyond.
###