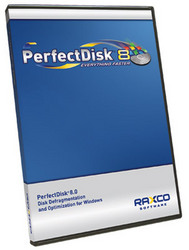 We know many of our millions of home users around the world will be implementing Windows Home Server, and we want to make sure they don't miss a day of having PerfectDisk automatically take care of all their defragmentation needs, and that includes their Windows Home Server hard drives
Gaithersburg, MD (Vocus) September 20, 2007
Raxco Software, the leader in disk defragmentation software, announced today the release of PerfectDisk® Version 8.0 for Microsoft's Windows® Home Server environments. Continuing a tradition of industry firsts, PerfectDisk is the first defragmenter available for Microsoft's new home server operating system, which is being launched on October 1st, 2007.
PerfectDisk 8.0 for Windows Home Server provides complete automation and simplicity for home networks. The product can be installed with no additional configuration or management required. PerfectDisk 8 for Windows Home Server is automatically installed to run unattended in the background using minimal system resources. With PerfectDisk's patented SMARTPlacement™ optimization, exclusive Space Restoration Technology's™ free space consolidation and single-pass defragmentation, families and enthusiasts will benefit with improved system performance as they share music, photos, and videos.
"We know many of our millions of home users around the world will be implementing Windows Home Server, and we want to make sure they don't miss a day of having PerfectDisk automatically take care of all their defragmentation needs, and that includes their Windows Home Server hard drives," said Bob Hegel, product manager at Raxco Software. "We've made the installation and implementation of PerfectDisk for Windows Home Server very simple, so users can immediately move on to enjoying their Windows Home Server environment, with the confidence all drives are completely defragmented and optimized."
PerfectDisk has a long tradition of innovations in the disk defragmentation market, including the first defragmenter with Vista, XP and Windows 2003 certification, first and exclusive support for multi-terabyte drives at no extra cost, patented optimization, exclusive total free space consolidation, exclusive MFT placement for improved performance, and many more.
PerfectDisk for Windows Home Server is priced at $39.99 and also includes a single license of PerfectDisk 8 Professional. A home site license that includes PerfectDisk for Home Server and up to 5 licenses of PerfectDisk 8 Professional for a home's networked PCs is priced at $99.99. PerfectDisk for Windows Home Server is available immediately at http://www.raxco.com and can also be evaluated for free for 30 days.
Winner of the 2006 Windows IT Pro Readers' Choice award, Raxco's PerfectDisk answers the unique needs of users in the enterprise, SMB and home office environments. For IT managers in large enterprise environments, the new Command Center provides a dashboard view of all servers and PCs being managed. A value comparison of disk defragmenters is available at http://www.raxco.com/products/perfectdisk2k/defrag_compare.cfm.
About Raxco Software
Raxco Software has been helping large enterprises, small businesses, and consumers with their computer resource management needs for more than twenty-five years. Its PerfectDisk is Windows® Certified by Microsoft®, and optimized for Windows XP. The PerfectDisk line has a long award-winning history, most notably its perfect 5-star review from CNET Download, winner of the Windows IT Pro 2005 and 2006 Readers' Choice Awards for Defragmentation Utility and Storage Management Tool, Redmond Magazine's Best of the Best Award for 2005, and PC Magazine's Editors Choice award for the past two years. In addition to its PerfectDisk line, Raxco also produces PC optimization software, including system recovery and disk repair products for Windows operating systems and HP's OpenVMS operating system. Raxco Software can be found on the Web at http://www.raxco.com.
Contacts:
Sherry Murray
Raxco Software, Inc
301-519-7836
smurray(at)raxco.com
Copyright 2007, Raxco Software, Inc. All rights reserved.
PerfectDisk, SMARTPlacement, and Space Restoration Technology are trademarks or registered trademarks of Raxco Software, Inc. Windows and Microsoft are trademarks or registered trademarks of Microsoft Corporation. All other trademarks or trade names are the property of their respective owners.
###