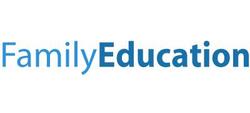 Halloween Costumes in a Flash
Boston, MA (PRWEB) September 25, 2007
Fall is here, Halloween is right around the corner and parents and kids are already planning their costumes and parties. When they visit FamilyEducation, they will find a one-stop resource for hundreds of family-friendly costume ideas and
Halloween activities and fun for kids, such as party games and activities, printable coloring pages and other ghoulish treats and information.
The search for the perfect Halloween costume starts early, and FamilyEducation takes the stress out of looking, with hundreds of costume ideas and printable costume templates. Ranging from book characters, such as Peter Pan or Harry Potter, to inanimate objects, such as a bag of jelly beans or bunch of grapes, the site's fun and creative kids' costume ideas will make this a Halloween to remember. There are even ideas for "Halloween Costumes in a Flash" for parents who might have waited until the last minute to get everyone suited up for trick-or-treating.
"Whether their kids want to be storybook characters or something a bit more ghoulish, FamilyEducation offers parents everything they need to plan a fun and safe Halloween," said Jess M. Brallier, publisher, FamilyEducation. "Best of all, many of our Halloween costume ideas, games and crafts are fun and inexpensive activities that parents and children can do together."
Once the important costume decisions are made, FamilyEducation also offers parents lots of great ideas for decorations and planning a "horror-ble" Halloween costume party for all of the little ghosts and goblins in the neighborhood. Halloween crafts are always a fun party activity, and FamilyEducation has ideas for kids of all ages, ranging from making ghastly ghosts and scary bats to safely carving pumpkins.
Parents will also find free Halloween games for kids with a ghostly twist on some traditional party games, such as "Pin the Wart on the Witch" and "Walk on the Witch's Hat," a spooky variation on musical chairs. The parenting site's Halloween printable activities for children can help put kids in the spooky spirit or provide more fun activities at a party.
Plus, what is a Halloween party without some creepy treats? Parents can learn how to make such delectably disgusting delicacies as spurting spiders, radioactive punch and earthworm surprise with Halloween recipes for kids & parents from FamilyEducation.
Halloween isn't all fun and games, however, and FamilyEducation offers parents tips and advice for keeping their children safe while they are celebrating. The site's "Top Five Halloween Safety Tips" remind parents of the precautions to take with pumpkin carving, costumes and trick-or-treating. Even though many states will have an extra hour of daylight for trick-or-treating this year, FamilyEducation reminds parents of the safety hazards when their princesses and Power Rangers go out to collect candy, with tips for street-smart trick-or-treating.
About FamilyEducation
FamilyEducation is the leading online publisher of practical parenting guidance, expert family advice, printables, skill-building exercises and activities for children. FamilyEducation.com is dedicated to educating parents and parents-to-be so they can raise healthy, educated and well-rounded children.
FamilyEducation is part of Pearson, the world's largest integrated education company. Pearson's other primary operations include the Financial Times Group and the Penguin Group.
###