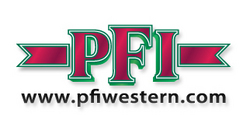 But the truth is, today's horsemen and women have sophisticated taste. After a day of riding, they want to enjoy a smooth cabernet or a crisp chardonnay along with a fine selection of cheeses
Springfield, MO (PRWEB) September 21, 2007
In a move sure to please urban cowboys and rural wine snobs, PFI Western Wear Store is expanding by adding a gourmet food boutique, stocked with private-label PFI wines and cheeses and expanding their saddle and tack department.
Located right next store to PFI Western Store, the new shops called Diamond Ridge Market and Saddle City are a 17,000 square foot logical extension for the PFI brand, says founder Randy Little.
"We all love those old spaghetti Westerns that show cowboys drinking rot-gut whiskey," says Little. "But the truth is, today's horsemen and women have sophisticated taste. After a day of riding, they want to enjoy a smooth cabernet or a crisp chardonnay along with a fine selection of cheeses".
Of course cowboy credentials aren't required to enjoy the new line of PFI wines and cheeses at Diamond Ridge Market, part of the new PFI Town. With over 400 varieties of domestic and international wines and 120 kinds of cheese there's surely something to please every taste.
Little predicts the 16" foot-long wine-tasting bar will be one of the most popular draws of the new food and beverage emporium.
"Our wine bar is a great way for people to sample a variety of fine wines and select the kind they like best. And people can taste our wines every hour we're open. We want folks to come in, and sip and stroll through the store."
Armed with a wine sample, customers can browse for unique food and gift items, ranging from gourmet meat rubs to venison jerky to Western-inspired wine racks and glasses.
Gourmet gift baskets will also be available or can be custom-created for customers.
"Everyone who shops at PFI knows we take special pride in custom-fitting boots, hats and saddles," says Little. "This is just one more opportunity for us to create something completely unique for our customers."
And speaking of unique, Little is moving his extensive stock of saddles and tack from PFI Western Store to the new location next door.
"I know this is about as untraditional as you get, but I like the idea of putting saddles near the wine bar. Why not? A lot of horse lovers are wine lovers, so it makes sense to me."
Little assures long-time customers that the original PFI Western Store will stay where it is on Battlefield Road and 65.
"Customers will see a bigger selection of cowboy boots with an expanded work boot department," says Little. "We'll soon have more than 20,000 pairs in stock from the classic Lucchese boots to our popular Ariat Disco Baby boot."
All of which begs the question: What kind of wine goes best with cowboy boots?
"Depends on the boot," says Little, laughing. "It's really bad when you're a wine snob and a boot snob. But the truth is, the great thing about wine and Western wear is that there's no one right thing to wear or drink. It's a lifestyle that resists trends and embraces all kinds of people and personalities. There's something for everyone in denim and leather and wine."
PFI Western Store
http://www.pfiwestern.com
###