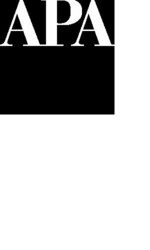 We need more development that is compact and allows a mix of uses -- retail, commercial, and residential -- so people can have more choices, such as living close to where they work. Planners throughout the country recognize this
Washington, DC (Vocus) September 20, 2007
Recommendations in a report released today about climate change underscore the imperative need for planning and policy measures that encourage compact, mixed used development so Americans have more choices about how they commute, travel, work and live, according to the American Planning Association (http://www.planning.org).
"This report focuses attention on the country's subsidies towards car-oriented and car-dependent urban and suburban development, instead of a balanced approach that provides Americans with more choices about commuting and being able to live closer to where they work," said APA Executive Director Paul Farmer, FAICP.
"Just as we can't build our way out of traffic congestion," Farmer said, "we also can't realistically reduce our carbon emissions and footprint without planning and building more compact communities where people can choose to go about their daily living and working without having to use a car as often or to drive as far as they do now."
The report, Growing Cooler: Evidence on Urban Development and Climate Change, was written by a group of authors led by Reid Ewing, an associate and research professor with the National Center for Smart Growth at the University of Maryland in College Park, Md. Ewing also is an associate editor with the Journal of the American Planning Association and a regular contributor to Planning magazine, both published by APA.
Research cited in the Growing Cooler report finds that reductions in carbon emissions from more fuel-efficient automobiles and alternative fuels are "likely to be offset by continuing, robust growth in vehicle miles traveled" and that the country cannot reach significant reductions in transportation-related carbon dioxide emissions "without sharply reducing the growth in miles driven."
That conclusion, said Farmer, is why U.S. cities and towns need to rethink how they plan, grow and change. Smart planning as well as smart growth are needed to ensure new development during the next 40 to 50 years doesn't continue the car-dependent approach that has shaped most of the country's development since World War Two.
More emphasis needs to be placed on, and redirecting new growth and redevelopment towards, existing cities. Another recent report, The Transportation/Land Use Connection published in June by APA, finds that changes in transportation since the 1950s caused major changes -- and costs -- to American cities including "increases in traffic congestion, declining environmental quality, and a lack of maintenance and redevelopment." (Review copies of The Transportation/Land Use Connection are available to the media by contacting Denny Johnson at djohnson(@)planning.org and through http://www.planning.org.)
"Ewing's report advocates a new policy involving how we allocate what is becoming scarce and environmentally unsustainable -- highway transportation capacity and use," Farmer said. "It's time we use our market economy for solving two problems at once -- reduction of carbon emissions from our automobiles and reduction of highway congestion by starting to adopt pricing policies that more accurately reflect the true costs of highway travel by automobile," he said.
Farmer said other policies and changes also needed are design and pricing standards to encourage mixed-use development; increasing the availability of transit; incentives for transit-oriented development; and increased land-development fees to reflect true costs.
During National Community Planning Month in October, APA will announce the first designations under a new program started by the organization, Great Places in America. Farmer said one of the important characteristics of a Great Place is that it provides a pedestrian-friendly environment and connections so people can walk, bike or take transit more often and use cars less frequently to get where they need to go.
"We need more development that is compact and allows a mix of uses -- retail, commercial, and residential -- so people can have more choices, such as living close to where they work. Planners throughout the country recognize this," Farmer said. "We can reduce our carbon emissions, but we're going to change how we plan, grow and develop the urban, suburban, and small town environments."
For more information about APA policies and reports concerning compact communities and land use-transportation issues as well as Great Places in America, National Community Planning Month, and soon-to-be-released climate change policy recommendations, visit http://www.planning.org.
The American Planning Association and its professional institute, the American Institute of Certified Planners, are dedicated to advancing the art, science and profession of good planning -- physical, economic and social -- so as to create communities that offer better choices for where and how people work and live. Members of APA help create communities of lasting value and encourage civic leaders, business interests and citizens to play a meaningful role in creating communities that enrich people's lives. APA has offices in Washington, D.C., Chicago, Ill., and Shanghai, China. For more information, visit its website at http://www.planning.org.
Contact:
Megan Lewis, AICP, APA Senior Research Associate, 312.786.6363; mlewis(@)planning.org
Jason Jordan, APA Legislation and Policy, 202.607.3762; jjordan(@)advocacyassociates.com
Denny Johnson, APA Public Affairs Coordinator, 202.349.1006; djohnson(@)planning.org
###