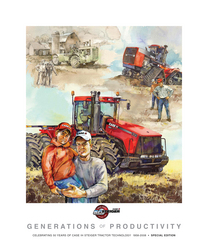 Magnum/Steiger/Axial Flow Anniversary Prints
Racine, WI (PRWEB) September 24, 2007
Case IH has released two commemorative fine art prints to highlight the heritage of its Magnum® and Steiger® high-horsepower farm tractors.
Case IH commissioned two original watercolors - one depicting the 20th anniversary of Magnum tractors and one illustrating the 50th anniversary of Steiger four-wheel-drive tractors. Both 20- x 24-inch prints are available through Case IH dealers or by calling (262) 636-7540 and asking for the Magnum or Steiger prints. Orders also may be placed online Click on "Magnum/Steiger/Axial Flow Anniversary Prints" and follow the directions for ordering.
The art prints are the second and third in a series entitled "Generations of Productivity." The first print, released in late 2006, commemorates the 30th anniversary of Case IH Axial-Flow combine technology.
"We had a great response to the Axial-Flow artwork, so it was an easy decision to continue the series with Magnum and Steiger," says Krista Knigge, Case IH director of brand communications. "It's a perfect way to honor the heritage of these two tractor brands, which have contributed so much to agricultural productivity around the world."
All three original watercolor paintings are the work of award-winning artist Tom Nachreiner, a lifelong Wisconsin resident and graduate of the Layton School of Art in Milwaukee. Nachreiner is influenced by American and French Impressionists and uses colorful designs to effectively capture moments in time.
Prints trace equipment evolution:
The Magnum anniversary print traces the evolution of Case IH row crop tractors with images of the Farmall F-30, the original 7100 Series Magnum and today's Magnum 335 model. A farm couple in the foreground symbolizes the importance of Case IH customers to the Magnum brand.
Similarly, the Steiger print pays homage to the first Steiger model, which was built in a Minnesota barn during the winter of 1957-58. The artwork features the first Steiger Quadtrac and the current Steiger 535 model, as well as a father and son who underscore the "Generations of Productivity" theme.
###