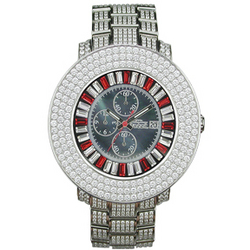 What an exciting time for Freeze. Our watches are now officially a part of pop culture. When talented young artists like Sean Kingston want to wear your product you know you've made it
Los Angeles, CA (PRWEB) September 22, 2007
Sean Kingston is inarguably one the hottest new artists in the music industry today. His first single, "Beautiful Girls" has held the #1 spot for 4 straight weeks in the US and 3 straight weeks in the UK. His 2nd release, "Me Love," is promising to be an even bigger hit. Freeze Watches was excited to hear that Sean Kingston is a fan, and took him up on the invitation to be part of the "Me Love" music video.
"What an exciting time for Freeze. Our watches are now officially a part of pop culture. When talented young artists like Sean Kingston want to wear your product you know you've made it," says Christopher Hernandez, Director of Marketing, FreezeWatches.
Freeze Watches appears throughout the "Me Love" video. Sean Kingston not only wears a 2.75 Carat Diamond Freeze Watch while performing on stage, but also built Freeze Watches into the video's storyline by setting up a Freeze Watches display window which is admired by Kingston and an actress in the beginning of the video. Mr. Hernandez also hosts a "Me Love: Behind The Scenes" chronicling the making of the video available on You Tube® at http://www.youtube.com/watch?v=x8KNIIxy6CA.
Freeze Watches are available at over 200 retailers in the US, Canada, and the UK. Diamond watches start at just $399. To check out their watches, see cool pics and videos, and find a store near you goto http://www.freezewatches.com .
Sean Kingston's debut album is available at stores everywhere. For ringtones, videos, downloads, and concert dates go to http://www.seankingston.com.
Freeze Watches are either registered trademarks or trademarks of MAT Bros D/B/A Freeze Watches in the United States and/or other countries. The names of actual companies and products mentioned herein may be the trademarks of their respective owners.
###