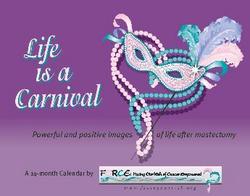 More than just a calendar, 'Life is a Carnival' is an intimate collection of real women courageously sharing their bodies and their experiences to help others understand their choices
San Antonio, TX (PRWEB) September 24, 2007
PRMA of South Texas, a leading cosmetic and plastic surgery practice in San Antonio, Texas, is sponsoring a unique effort to inform and educate breast cancer patients about their options after mastectomy.
"Life is a Carnival," a bold approach to mastectomy and breast reconstruction education, is a 14-month calendar featuring photos of women who had breast reconstruction after mastectomy and those who didn't. The calendar is published by Facing Our Risk of Cancer Empowered (FORCE), the only national nonprofit organization for families affected by hereditary breast and ovarian cancer.
"More than just a calendar, 'Life is a Carnival' is an intimate collection of real women courageously sharing their bodies and their experiences to help others understand their choices," said Sue Friedman, FORCE Executive Director. "Our calendar celebrates life after mastectomy. As these photos attest, life after mastectomy -- with or without reconstruction -- does go on."
Mastectomies are performed to treat various types of breast cancer. Increasingly, more women -- including very young women -- with a family history of the disease are choosing preventative (or prophylactic) mastectomies to reduce their lifetime risk of developing breast cancer, which can be as high as 85 percent. Choosing the best way to reconstruct breasts lost to mastectomy, or whether to reconstruct them at all, can be confusing and overwhelming. "Life is a Carnival" provides a unique way to explore options, consider different restorative techniques and make informed decisions when it comes to mastectomy reconstruction.
"Today, women have many reconstructive options after mastectomy," said PRMA's Dr. Minas Chrysopoulo. "We're proud to sponsor 'Life is a Carnival', a tool that helps women understand what is possible so they can make their own informed decisions."
PRMA plastic surgeons Drs. Peter Ledoux, Chet Nastala, Steven Pisano and Minas Chrysopoulo specialize in all aspects of cosmetic surgery and breast reconstruction following mastectomy, with a special emphasis on advanced microsurgical breast reconstruction techniques using the patient's own tissue. Their preferred reconstructive technique is the DIEP flap (Deep Inferior Epigastric Perforator flap), which uses the patient's lower abdominal tissue (like a tummy tuck) and spares the abdominal muscle.
The DIEP procedure is the new "gold standard" in breast reconstruction surgery and is associated with less postoperative pain and a shorter hospital stay and recovery than the conventional TRAM flap procedure. Another major benefit of the DIEP flap procedure is that it prevents the loss of abdominal muscle strength usually associated with TRAM flap reconstruction. With only about 40 US surgeons performing this procedure, experience is an essential factor for this technically demanding surgery; PRMA performs over 250 DIEP flap breast reconstructions per year. To learn more about this advanced form of breast reconstruction please visit the PRMA website at http://www.prma-enhance.com , or call (210) 692-1181 or (800) 692-5565 toll free.
The "Life is a Carnival" calendar is available from FORCE by calling (866) 288-7475.
###