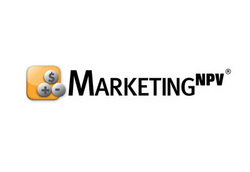 Searching for Better Planning Assumptions? Start with the Unknowns
Princeton, NJ (PRWEB) September 25, 2007
The current issue of MarketingNPV Journal provides solutions for today's marketers to help them shore up their knowledge and make more disciplined - and defensible - budgeting decisions for the 2008 planning season and beyond.
The feature story, "Searching for Better Planning Assumptions? Start with the Unknowns," asserts that to build a more effective framework for budgeting and resource allocation, CMOs need to get their arms around what they know - and what they need to know - about their marketing programs.
"A marketing team's ability to plan effectively is a function of the knows and the unknowns of the expected impact of each element of the marketing mix. But too often, the unknowns outweigh the hard facts - not exactly a combination that fills a CMO with confidence when asked to recommend and defend next year's proposed budget," says Rob O'Regan, editor of MarketingNPV Journal. "In this issue of MarketingNPV Journal, we present a three-step program to provide a stronger foundation to make more disciplined budgeting and resource allocation decisions."
Additional resources are also available to assist with the 2008 planning season. The article titled "5 Ways Marketing Forecasts Flounder" details five common forecasting mistakes and suggests ways to avoid them. And "A Memo from Your Last Dollar Spent" offers a unique perspective and words of wisdom about the impact and results from your most recent expenditure.
Other articles in this issue of MarketingNPV Journal include "The Rocky Road to Single Source", an interesting look at the barriers that remain in the quest to funnel all media behavior into a single data source; and a commentary from Jim Sterne, President of the Web Analytics Association, in which he reviews the vast amount of data being generated through web analytics and what it's really telling us about our businesses.
Copies of the new issue can be viewed and downloaded from http://www.MarketingNPV.com.
MarketingNPV (http://www.MarketingNPV.com) is a highly specialized advisory firm that links marketing expenditures to financial value creation, providing continuous improvement in the effective and efficient allocation of marketing resources. The firm uses processes and tools tuned to measure the payback on marketing investments, track the right performance metrics, and forecast the economic impact of changes in strategy or tactics. MarketingNPV maintains the world's largest online archive of articles and resources about marketing measurement, and publishes MarketingNPV Journal quarterly.
Contact:
Tina Anagnostis
(908) 439-2891
http://www.MarketingNPV.com
###