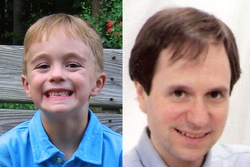 Media attention is an extremely powerful tool in these types of situations, I strongly urge the media to do their part, and play a role in the recovery of Colin
Annapolis, MD (PRWEB) September 22, 2007
Maryland State Delegate James King, along with members of the Anne Arundel County Police department will be holding a press conference this Monday, September 24th at 2PM at the Lowe Office Building Room 142 (AA County Delegation Room) to discuss the abduction of 6 Year old Crofton resident Colin Jackson.
Colin was taken by his father David Jackson on August 27, 2007 and is believed to be in the area of the Great Smoky Mountains National Park in Tennessee or North Carolina. The press conference will include statements from Delegate King, The Anne Arundel County Police Department, and Colin's mother Cheryl Jackson, and will be followed by a short question and answer session.
Through Metro Crime Stoppers a fund has been initiated for a reward for information leading to the apprehension of Mr. David Jackson. Detailed information about the reward, as well as how the general public can donate to the fund will be announced at that time as well.
"Media attention is an extremely powerful tool in these types of situations, I strongly urge the media to do their part, and play a role in the recovery of Colin," said Delegate James J. King.
# # #