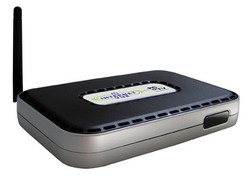 InternetVue™ 2020 represents a major step toward true PC and consumer electronics convergence
Irvine, CA (PRWEB) September 25, 2007
Addlogix today announced that its InternetVue™ 2020 Wireless PC2TV Receiver is immediately available from web retailers and distributors. Streaming video fans, presenters, lecturers, and digital photographers can now mirror what is on their computer screen on projectors or TVs. InternetVue™ 2020 connects to any display device with composite or component inputs, while software loaded on the PC sends full-frame display data at up to 30 frames per second to the receiver via the local 802.11 b/g network.
InternetVue™ 2020 is a true WYSIWYG solution, displaying whatever is currently shown on the entire computer screen. Unlike other PC-TV gadgets which are limited to certain file formats, any and all types of pictures, programs, videos (regardless of CODEC), is fully compatible. Web videos, movies, and high-resolution photographs, are shown with smooth playback, accurate color reproduction, and with virtually no perceptible distortion.
"InternetVue™ 2020 represents a major step toward true PC and consumer electronics convergence," said Sharon Charna, president of Addlogix. "No longer will PC-based content be limited to the computer screen. Now everyone can share and enjoy watching streaming videos and viewing digital photos on more expansive displays such as TVs or projectors."
InternetVue™ 2020 provides a convenient solution to many common PC viewing compromises. In general, InternetVue™ 2020 acts as a wireless cable replacement between the PC and the display device. For example, businesspeople and educators can show their presentation or computer-based demonstration on any display device, from anywhere in the venue. Sports fans can easily watch web-based games on a big-screen TV, while more casual users can show streaming or stored videos, as well as vacation photos, to friends and family.
InternetVue™ 2020 carries an MSRP of $249USD. For more information about the product, visit http://www.InternetVue.com.
About Addlogix:
Addlogix was established in 1979. Formerly CompuCable Manufacturing Group, Addlogix is the first dedicated manufacturer and distributor of interface cables. In addition, it is a distributor of professional audio and video products, a provider of high quality tools and tool kits for various computer, network and data communication applications. For additional information, visit http://www.addlogix.com.
###