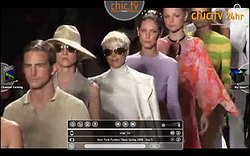 There's an attentive audience that is keen to see fashion in all of its forms, and CHIC.TV programming gives this audience exactly what it wants
New York (PRWEB) September 24, 2007
CHIC.TV (http://www.chic.tv) announced today that it will bring program offerings, including the latest fashion from New York Fashion Week, to Joost™ (http://www.joost.com), the world's first broadcast-quality Internet television service.
"There's an attentive audience that is keen to see fashion in all of its forms, and CHIC.TV programming gives this audience exactly what it wants," said Rami Rinot Founder and CEO of CHIC.TV. "From fashionistas to casual fans, people everywhere will be able to stay up-to-date on the latest fashion trends and news through CHIC.TV on Joost. From established designers to fresh faces, CHIC.TV covers the fashion industry from all angles."
CHIC.TV is a 24-hour online lifestyle video magazine featuring fashion, dining, cooking, travel and all that is chic. For CHIC.TV's channel on Joost, viewers will be able to watch coverage from New York Fashion Week Spring 2008, featuring designers such as Diane Von Furstenberg, Michael Kors and Zac Posen. Viewers also will have access to videos covering trends in beauty and hair, scenes from backstage at Fashion Week and sneak peeks at new faces in modeling. CHIC.TV will also bring specialized video summaries of men's fashion trends.
Yvette Alberdingk Thijm, executive vice president of content strategy and acquisition for Joost, said, "With the wide range of programming available on Joost, there's something for everyone. Now that CHIC.TV is on Joost, people everywhere can learn what it's like to be a fashion insider -- or how to look like one."
Founded by Janus Friis and Niklas Zennström, Joost combines the best of TV and the best of the Internet by offering viewers a full-screen audiovisual experience enhanced with the choice, control and flexibility of Web 2.0. Joost is the first online, global TV distribution platform, bringing together advertisers, content owners and viewers in an interactive, community-driven environment.
CHIC.TV on Joost is available at http://www.joost.com/1950001.
About CHIC.TV
CHIC.TV, a 24-hour online lifestyle video magazine, was created to address the needs of the chic and savvy consumers wishing to access lifestyle information in a new form of media, primarily video on the internet. Launched in 2006 with over 250 featured items and an A-List team of editors and hosts, CHIC.TV is producing original material representing more than 40 hours of continuous reporting about all that is chic. Viewers can browse through the daily updated video channels and checkout chefs, restaurants and dining, cooking and drinking, fashion, nightlife, travel, art and more broadcasting a full lifestyle experience. CHIC.TV has an established audience of more than 100,000 visitors each month plus many more via CHIC.TV Network affiliates, Joost, YouTube and numerous blogs and websites. http://www.chic.tv
# # #