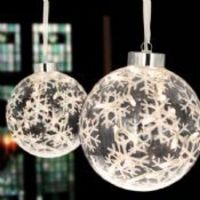 (PRWEB) September 26, 2007
Internet gift shop dotcomgiftshop has announced the launch of its Christmas 2007 range, so buying traditional and unusual Christmas gifts online is now easier than ever.
Those stuck for gift ideas can browse at their leisure. If they are looking for something unusual for him, how about some Christmas gift ideas out of left-field, like a duck that lights up in the bath? Or a remote control helicopter. Those looking for something more traditional could plump for something elegant like a Baroque velvet-lined jewellery box.
As well as Christmas gifts there is a wide range of Christmas decorations available for purchase online at the website, from LED lights and baubles to decoupage and black, white and pink Christmas trees.
Christmas shopping on dotcomgiftshop can solve many gift buying dilemmas. The website features a wide range of potential presents to choose from - conveniently grouped together on pages like Christmas gifts for her, Christmas gifts for him and unique Christmas gifts - to help you solve the ultimate conundrum of what to buy the person who has everything.
Everybody hopes for smiling faces on Christmas morning, and the last thing anybody wants to see is thinly veiled disappointment. That is why it is so important for consumers to have not only a host of Christmas gift ideas but also a quality range of products to choose from. Luckily, dotcomgiftshop takes care of that.
When it comes to Christmas decorations, dotcomgiftshop has a wide choice of everything the consumer would expect to find, with old favourites like Christmas candles, Christmas lights and a range of artificial Christmas trees, as well as more unique examples, like Christmas folk decorations.
So the consumer really is spoilt for choice for gifts and decorations at dotcomgiftshop.
To view the array of Christmas gifts and Christmas decorations available, visit: http://www.dotcomgiftshop.com
###