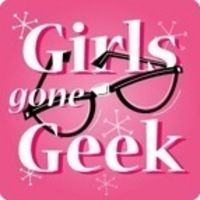 San Francisco, CA (PRWEB) September 28, 2007
They range in geekiness from newbie to veteran, but the five female co-hosts of the new audio podcast Girls Gone Geek -- Staci Degagne (21), Asiana Ponciano, (23), Heather MacLean, (26), Maria Bernal-Silva (29), and Liana Lehua (37) -- are planning to make Tech Talk on the Web fun and fabulous.
Today, these five ladies launched "Girls Gone Geek" (http://girlsgonegeek.tv), a weekly half-hour audio podcast on technology with a female point of view, available on the Podango Network (http://www.podango.com).
The Girls Gone Geek co-hosts report on the latest consumer and business tech devices, software and the people and companies behind them, and offer useful tips and tricks for getting the most fun from tech toys we love to use.
In segments titled Health and Fitness, Beauty and Fashion, Environment, Entertainment (movies, music, TV), Productivity, Video Games and Comics, Cult Classics, Social Networking, Business and Finance, and Art and Culture, the girls will report on computers, notebooks, handheld devices, software, social networks, online shopping, emerging technology, wireless, in-vehicle gadgets, home theatre and video, gaming and digital imaging.
The creator and executive producer of Girls Gone Geek is new media pioneer and former radio broadcaster Scott Bourne, President of Podango Productions. Scott is also the Host and Executive Producer of the hit podcast, "The Apple Phone Show." For more information visit http://podango.com.
Co-Host Bios
Staci Degagne (21 years old) -- Staci was born and raised in Las Vegas, Nevada. She moved to the Bay Area two years ago in the hopes of becoming documentary filmmaker and editor. She briefly attended the University of Nevada, Reno where she studied journalism and worked as an On-Air Operator for the local PBS station. Eager to get her feet wet in the industry and tired of sitting in the control room and watching others write and create, Staci moved to San Francisco to attend the San Francisco School of Digital Filmmaking (SFSDF). Since then, she has written and directed several of her own short films and recently worked as an assistant editor on the feature film, Around June. After graduating SFSDF, she was hired by Podango Productions as a production assistant. When she's not editing, Staci enjoys running, tap dancing, writing and illustrating her own poems, catching up on the latest episodes of Entourage and Frontline, and listening to her favorite band, My Morning Jacket.
Heather MacLean (26 years old) -- Born and raised in the Bay Area (the peninsula, to be exact), Heather earned her BA in Art History at the UC Berkeley. After working as a photographer in an art gallery for three years, she decided to follow her passion for film a career and enrolled in SFSDF. Being a child of the eighties, Heather's childhood was inundated with marketing, commercials, gimmicks, etc., so her creative life explores these things. She attributes her natural tendency to make use of old and "nostalgic" technology (Commodore 64s/Tandy's/PixelCam/what have you) to the fact that she also grew up in the computer era. Heather really likes the idea of using antiquated computers and systems to their full capacity and her goal as a filmmaker is to explore the dichotomy between pushing forward but not forgetting past stepping stones in the process.
Asiana Ponciano (23 years old) -- Born in Hawaii, Asiana longed to leave her island paradise for big city lights. She has been residing in San Francisco for five years and just recently graduated from San Francisco State University where she studied Journalism and American Literature. Currently, Asiana freelances as an arts and entertainment reporter for several San Francisco -based publications such as Hyphen, Curve, and The City Star as well as an online magazine called OhDang! (Ohdangmag.com). Despite her steady freelance work, she hopes to drop her day job in the restaurant industry for a dream job as a full-time staff writer. Asiana is constantly playing the college graduate role of job hunter, and when she's not writing or working, Asiana enjoys cooking, movies, concerts at the Filmore, Scrabble, and brainlessly reality TV competitions (her current favorite is Top Chef).
Maria Bernal-Silva (29 years old) -- A native of San Francisco, Maria recently graduated from San Francisco School of Digital Filmmaking & holds a Bachelor of Arts in Cinema from San Francisco State University. As an independent filmmaker, Maria keeps busy crewing on different film projects as well as working on her own (writing, directing, producing, & editing) in hopes of finding a career path in this creative field. Her favorite movie genre is Science Fiction & her favorite television/film writers/directors include Joss Wedon & JJ Abrams. Girls Gone Geek is her newest venture into the podcasting world. Maria's hobbies include: running, singing, dancing, drawing, video games, comic books & acting.
Liana Lehua (37 years old) -- Liana spends her days pursuing any combination of her life's passions: teaching, creating, coding, surfing, working out, mountain biking, or climbing. Liana is founder and chief architect of Creative Cartel, a new media communications company that specializes in a variety of rich media solutions, including: social networking applications, web applications, and audio and video podcasts. Prior to joining Girls Gone Geek, Liana worked her way through the ranks of IT organizations at several major entertainment companies to lead a Hollywood web start-up as Chief Architect. Liana is also Certified as a Personal Trainer by the National Academy of Sports Medicine. Liana has had the desire for living a healthy, active lifestyle since she was a wee baby. She continues her personal training by helping people learn about, apply, and maintain health and wellness principles and actions in their own lives.
About Podango:
Podango is the online video and audio network that enables publishers and advertisers to "get heard" by today's hard-to-reach, niche audiences. Featuring such hit shows as The Apple Phone Show, Podango hosts over 1,000 programs -- including a number routinely found among the top twenty-five podcast shows on iTunes -- on a wide variety of interests and topics. Through the company's hosting and syndication services, corporate, professional and independent publishers deliver episodic video and audio programs, and targeted ads to highly qualified audiences. Podango also owns and operates its own a state-of-the-art production studio in the Bay Area. For more information please visit: http://www.podango.com.
###