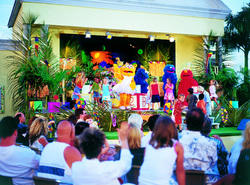 While most beach destinations scale back on attractions during the fall, Beaches Resorts' 'Sandbox Savings' package offers the most comprehensive vacation experience in the Caribbean for parents traveling with toddlers
Miami, FL (PRWEB) September 25, 2007
Beaches Resorts, the Caribbean's leading family resorts with locations in Jamaica and Turks & Caicos, just made it easier for families looking to get away this fall through its 'Sandbox Savings' package. Families who book now for travel between September 1, 2007 and October 31, 2007 can enjoy up to 45 percent of regular rack rates. Rates begin at $159.50 per person, per night with a three-night minimum stay. Package highlights include enhanced preschool entertainment and activities for island-hopping tots, through exclusive partnerships with Sesame Workshop and Crayola, as well as romantic retreats and nanny services for parents.
"While most beach destinations scale back on attractions during the fall, Beaches Resorts' 'Sandbox Savings' package offers the most comprehensive vacation experience in the Caribbean for parents traveling with toddlers," said Maggie Rivera, director of public relations and sales promotions for Unique Vacations, the worldwide representatives for Beaches Resorts. "Plus, with up to 45 percent off savings on vacations booked this fall, there is no better time to head for Beaches Resorts."
Non-stop fun awaits Beaches Resorts' youngest guests through its 'Sandbox Savings' deal, featuring entertainment, programs and activities, geared toward the preschool set, including:

Beaches Resorts Caribbean Adventure with Sesame Street: Beaches Resorts is a proud sponsor of Sesame Workshop, the nonprofit educational organization behind Sesame Street. Guests of Beaches Resorts have the exciting opportunity to sing, dance and laugh with their favorite Sesame Street characters while on vacation. Adding to the excitement this fall, Beaches welcomes popular fairy muppet, Abby Cadabby. From participating in Beaches' pirate-themed treasure caravan show at Beaches Turks & Caicos to joining the rest of her furry friends during the Sesame Street Parade at all four resort locations in Jamaica and Turks & Caicos, Abby will be sure to delight the crowds with her "that's so magic!" attitude and zest.
Sesame Street Stage Shows: Tiny tots will enjoy live entertainment through Beaches' Sesame Street Stage Shows, with performances such as "You, Me and Sesame" and "Bert & Ernie's Island Vacation" at all four Beaches locations. Additionally, guests will be thrilled when new-comer Abby Cadabby takes the stage during a new show, "Magic in Me."
Beaches' Pirate's Island Waterpark: Preschoolers can slip n' slide their way into swashbuckling summer fun at the Pirate's Island Waterpark at Beaches Negril, Beaches Turks & Caicos and Beaches Boscobel Resort & Golf Club in Ocho Rios, Jamaica.
Crayola Art Camps: Through Beaches Resorts' exclusive Crayola Art Camps, families can unleash their creativity through Caribbean-inspired games and activities using Crayola products. Participants will enjoy hours of fun with Beaches staff members who have been professionally trained by Crayola to lead and supervise tots through imaginative and educational activities.
Kids Camp: Kids Camp is one of Beaches Resorts' key attractions designed for children of all ages. Each Kids Camp features its very own set of activities geared toward a specific age group and is supervised by Ultra Nannies, child development specialists that have been trained and certified in accordance with an accredited U.S. university. Kids Camp activities include toddler splash pools, shell collecting, face painting, treasure hunts, puppets, costume time, magic shows, sand castle building and so much more.
This fall, parents can make the most out their Caribbean vacation through the following exclusive programs available at all four resort locations:

Ultra Nannies: To ensure that Mom and Dad get the quality adult-time that they need, Beaches Resorts provides parents with the option of the extremely accommodating, Ultra Nannies program, available at all four Beaches Resorts. Through this program, Beaches ensures the safety, enjoyment and education of toddlers by certified childcare specialists while parents take the night off to enjoy a relaxing, kids-free Caribbean evening.
"Learning is Everywhere" with Sesame Street: For ten magical days this fall, Beaches Turks & Caicos Resort & Spa will host an exclusive "Happy Healthy Ready for School: Learning is Everywhere" program, in partnership with PNC Financial Bank, presented by Jeanette Bentacourt Ed. D., vice president for outreach and educational practices and Jane Park, Associate Director of Educational Content at Sesame Workshop. Guests arriving September 27, 2007 - October 1, 2007 and October 17, 2007 - October 21, 2007 will be invited to sit in on an intimate, 45-minute session hosted by Dr. Betancourt and Jane Park, respectively, to discuss the importance of taking advantage of the everyday learning moments that exist within our daily routines. Additional highlights of the week include Sesame Street¬-themed boxes and posters that will be placed throughout the resort, containing different everyday "learning missions," such as a box of shells and rocks for a sink versus float experiment in the pool.
Single Parent Fun (SPF) Months: Beaches Resorts is proud to roll out its fifth annual Single Parent Fun (SPF) months, providing single parents with a much-deserved vacation with the kids, as well as some downtime for themselves. To honor single parents, Beaches Resorts is waiving the single supplement fee (of up to $190 per night) at all four resort locations in Jamaica and Turks & Caicos, for travel August 17 - October 31, 2007. The SPF program also includes: Single Parent Welcome Receptions, Social Cocktail Receptions and Kid's Movie Nights.
For more information or to book your Beaches Resorts vacation today and save up to 45 percent off this fall, call your favorite travel agent or 1-800-BEACHES, or visit online at http://www.beaches.com.
About Beaches - A Place to Play in the Sand:
With four spectacular locations on the most beautiful beaches in Jamaica and Turks & Caicos, Beaches Resorts is the luxury included family getaway and the most comprehensive vacation available in the Caribbean. Beaches Resorts is part of the Sandals' family, the Caribbean's largest operator of luxury included resorts, and has been voted the World's Best Family All-Inclusive Resort for nine years in a row.
# # #