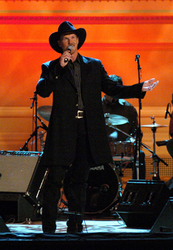 Nashville, Tenn. (PRWEB) September 25, 2007
Great American Country television network cranks up the music in October and will bring country music's favorite performers right into your living room. GAC's annual Opry Month, hosted by country music superstar Trace Adkins, will ring strong with dozens of live performances, up-close interviews and a brand new GAC reality series.
Just who are the fan favorites who will show up to commemorate GAC's annual Opry Month celebration? Brooks & Dunn, Brad Paisley, Alan Jackson, Trisha Yearwood, Trace Adkins, Alison Krauss, Montgomery Gentry, Chris Young, Jason Aldean, Dierks Bentley, Big & Rich , Little Big Town, Martina McBride, Kellie Pickler, Rascal Flatts, LeAnn Rimes, Sugarland, Taylor Swift and Josh Turner represent but a few of the country music stars who shine on GAC in October.

Enjoy a live country music performance every Saturday night with GAC's Opry Live (8 p.m. ET) from the stage of Nashville's Grand Ole Opry, the place where special one-of-a-kind musical moments happen. Some of October's scheduled Opry Live performers include Carrie Underwood, Ronnie Milsap, Travis Tritt, Vince Gill and Steve Holy.
For the first time, fans will choose which episode they'll watch during the Tuesday night rebroadcast of Opry Live (9 p.m. ET). Starting September 21, and continuing throughout October, GACTV.com will let viewers vote among three recent Opry Live telecasts. The episode receiving the most online votes from fans will be the one shown on the air the following Tuesday.
GAC's annual Opry Marathon the weekend of Oct. 20-21 brings more than 12 hours of the past year's top Opry performances back to the television screen. Look for artists like Trace Adkins, Dierks Bentley, Vince Gill, Dolly Parton, Trisha Yearwood, Carrie Underwood, Martina McBride, Alan Jackson, Rodney Atkins, Kellie Pickler and many more. GACTV.com will report the latest information on upcoming Opry Live episodes each day.
See Alison Krauss perform with members of her acclaimed band, Union Station, and team up with Brad Paisley, James Taylor and John Waite on touching duets in the intimate GAC special Alison Krauss A Hundred Miles or More (Oct. 8, 9 p.m. ET)
Catch some of country music's top newcomers as they perform live on stage at the 2007 CMA Music Festival in downtown Nashville. Blake Shelton hosts GAC's Riverfront Concert Series throughout the month (Thursdays, 8:30 p.m. ET), featuring artists like Whiskey Falls, Chris Young, Jake Owen, Ty Herndon and Carolyn Dawn Johnson.
Each Wednesday evening (8 p.m. ET), GAC presents the exclusive music-based reality series, The Hitmen of Music Row, starring four of Nashville's best-known and most successful songwriters. Bob DiPiero, Tony Mullins, Jeffrey Steele and Craig Wiseman collectively are responsible for 38 No. 1 hit songs and more than 150 million songs sold.
GAC's presentation of the two-hour special CMA Music Festival: Country's Night to Rock closes out the month (Oct. 31, 8 p.m. ET) with plenty of live performances from top artists like Carrie Underwood, Rascal Flatts, Brooks & Dunn, Miranda Lambert and Taylor Swift.
If you like country music, you will love Opry Month on GAC. Log on to GACTV.com for program updates and a full report on who's on when.
About Great American Country (GAC)
Great American Country is America's main street for the widest variety of country music, its artists and the lifestyles they influence. In addition to country music videos, GAC features original programming, special musical performances and live concerts, and is the exclusive television home of the Grand Ole Opry. GAC is available in more than 50 million households and online at http://www.GACTV.com .
###