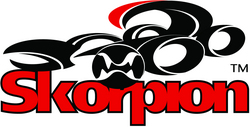 I think all these things are what caught the eye of Giorgio Armani, one of the world's greatest fashion designers
Las Vegas, NV (PRWEB) September 25, 2007
Skorpion Sports continues to grow its presence in the U.S and European skating markets in its latest partnership with fashion designer, Giorgio Armani. The partnership resulted in the EA7 Skate which will be sold in select Emporio Armani stores beginning mid November 2007.
With design and function in mind Skorpion Sports Ltd has designed and produced a skate that encompasses function, performance and ease of use with sleek urban styling.
"I think all these things are what caught the eye of Giorgio Armani, one of the world's greatest fashion designers," says Gary Reid, Managing Director, Skorpion Sports New Zealand.
The EA7 by Emporio Armani are a fusion of modern design, technology and reflects the demand of fashion conscious 'urbanites' for style and sophistication. The skates represent the latest in skating technologies, designed to give skaters more freedom to explore the ever-changing urban environment.
"We are incredibly excited about the Emporio Armani partnership. This is further testimony to the quality, style and performance of our skates," says Reid.
Total Performance
Skorpion utilizes Dupont's latest Zytel Polyamide resin which provides excellent lightweight strength. When combined with the Quadcoil Spring suspension and steerage system and chromed Hyper rims from Italy, it all results in a lightweight skate with that gives genuine street performance.
The New Revolution in Urban Transport
The Skorpion Armani Urban Skate is the perfect solution for inner city mobility. With cities around the world suffering from traffic congestion and pollution, the skates are a practical and convenient alternative.
Skorpion's innovative design has produced the most stable skate available in market making them suitable for skaters of all ages and skill levels. The skates are strapped-on and can easily be attached to any athletic shoe.
Besides being a practical commuting device, the Skorpion Armani Urban skate is also a fun product that can be used for recreational and fitness purposes.
For more information, visit skorpionusa.com
Skorpion™ is a registered trademark of Skorpion Sports Ltd. New Zealand
Quadline® is a registered trademark of Skates On Haight Inc. USA
Other names used may be trademarks of their respective owners
Media Alert
What: Interviews and Preview look at EA7 Skate and new Quadline skate and accessories
Who: Gary Reid, Managing Director, Skorpion Sports Ltd New Zealand
Lee Cole, CEO, Skates on Haight / Skorpionusa Ltd. USA
When: Wednesday, September 26 through Friday, September 28, 2007
Time: 10am-5pm
Where: Interbike Conference, Sands Convention Center, and Las Vegas, NV - Booth 6152
Contact: Rochon Perry @ 415.839.6322/office or 415.336.1487/cell
Skorpionusa Ltd.
540 De Haro Street, San Francisco, CA 94107 USA
+1.415.447.1800 (P) +1.415.552.4241 (F)
http://www.skorpionusa.com
###