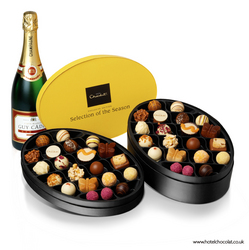 London, UK (PRWEB) September 26, 2007
British chocolate phenomenon Hotel Chocolat is celebrating the thrill of the unexpected gift with a special online competition, especially for gourmet chocolate lovers.
Lucky winners will be sent a sumptuous double layer box of summer chocolates and a bottle of champagne as a gift to profess their love to their nearest and dearest.
To enter, chocolate lovers must simply post 100 words or less on the Hotel Chocolat site describing why a loved one most deserves to win this luxurious chocolate gift. The more persuasive and heartfelt the plea the better. All entries will be displayed on the site and the most compelling submission will be rewarded with Hotel Chocolat's decadent Late Summer treat.
20 double layer summer chocolates and champagne gift sets are up for grabs. For a chance to win this luxurious prize for a loved one - or even for your own indulgence - please visit http://www.hotelchocolat.co.uk/Win-a-Chocolate-Gift-Aim_summer01/. The Hotel Chocolat. The online Late Summer competition will close on 5 October 2007.
About Hotel Chocolat
Hotel Chocolat, the UK chocolate retailer, was founded over ten years ago by entrepreneurs Angus Thirlwell and Peter Harris with a vision of making chocolate exciting again for UK consumers bored by the mediocrity of what was available in supermarkets and on the high street.
Using quality, authentic ingredients is an ethos that has been fundamental at Hotel Chocolat since the beginning and the 'no nasties' approach bans the use of additives such as hydrogenated vegetable fat and artificial colours in order to let the pure chocolate flavours and aromas through.
http://www.hotelchocolat.co.uk
###