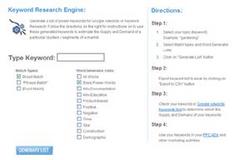 Why do I keep losing money with PPC?
New York, N.Y. (PRWEB) September 25, 2007
What if there was a tool that helped make research easier? CovertSEM.com has just released a completely free "Power Keyword Research Engine"; a new keyword suggestion tool to do a BETTER keyword analysis research, find stronger phrases, specific problems that can be solved and eventually build better markets and increase revenue.
As many of us know, Keyword research is the cornerstone of Online and Internet Marketing. One university defines a Keyword as "The word or words that relate to a particular topic. Keywords or phrases are used to construct a search statement to find information."
When doing Keyword Research, most people try and find words that relate to their business and/or their market. They do this in the hopes, that they can attach those keywords to their web pages and website (or in their online SEM or PPC campaigns) and get more traffic to their site.
But look at the definition for 'Keywords' once more. "...phrases used to construct a search statement to find information..."
Will searching for keywords that contain their market, or their product help their businesses?
Just because a word or phrase is popular in the search engines, does that mean they'll make more sales, or generate higher and higher revenue?
No.
Why? Because just like that definition states, a keyword phrase, is a phrase used to construct a search statement to find information. That means different search statements, mean people trying to FIND different things. That means some people are searching with an inclination to purchase, and some without.
Someone looking for free information about stereos will search differently than someone searching for a home theater installer. If your business is installing Home Theater systems, and your keyword phrase is 'home theater' then you're probably going to get a lot of people who just aren't going to be helped by your solution when they come to your website.
This can bring your sales conversion rate way down, and if you're spending money on PPC, you could spend a fortune to make back very little revenue.
Keyword research is only valuable when you find phrases or words that people are searching for, 'when trying to SOLVE a problem', or 'WANT a solution'.]
Why? Because many keyword phrases aren't based on a customer looking to make a purchase, but when someone is searching for a solution to a problem we know they have a much stronger inclination to purchase, as they want and need a solution.
Let's look at an example:
Look at the difference between someone searching for "Internet Marketing Ideas" and someone searching for "Why do I keep losing money with PPC?"
The first search statement, "Internet Marketing Ideas" may be someone simply doing research on the subject, or they may be a competitor, or someone browsing looking for Free information. Our chances of finding someone with an inclination to spend, someone who needs or wants a solution, will be much lower.
The second search statement, "Why do I keep losing money with PPC?" is clearly someone with a problem that needs a solution. If everyone that had that problem saw your website on 'how you save people massive money on PPC campaigns', then when they typed in that search statement and they came to your website, you'd have a much better closing (or conversion) rate.
Next, we can cast a broader but still focused net, using a shorter version of that question by taking only the important adjectives (known as power words) and build a much more effective keyword phrase.
First, we need to identify what is the context of the problem, what word is our market in that search statement (otherwise known as our Market/Problem word)?
The word "PPC" is the problem the potential customer is having with.
What are the core adjectives or problem surrounding that market?
The words "losing money". Since they are LOSING MONEY with PPC.
We could use:
"losing money ppc"
"lose money ppc"
"expensive ppc"
So if we focused on these keyword phrases and our rankings for each of these was quite high, then our traffic would be coming to us, almost pre-qualified, wouldn't it? And this would give us a competitive edge over our competition, as we'd need fewer visitors to produce more sales.
This is the power and our philosophy of Proper Keyword Research.
With this tool, there are close to 700 words that cover 10 different categories, and counting. The visitor is encouraged to use the tool and share the results (not the data just the outcome) with the builders and the community at large. Suggestions to improve the tool are not only accepted but also encouraged.
For more information about the Free Keyword Research Engine visit: http://www.covertsem.com/tools/keyword-research-engine/
CovertSEM is a marketing company that gives you the right guidance and advice for your online business with top experts in the Internet Marketing Industry.
Contact:
CovertSEM
David Dilbert, President
(718) 732-2331
http://www.covertsem.com/
###