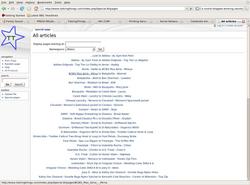 Wilmington, DE (PRWEB) September 26, 2007
Web 2.0 startup, General Internet Pvt. Ltd., has announced the launch of TalkingThings.com - a wiki project that aims to list in one place, details about every consumer product from around the world.
TalkingThings.com aims to be an information resource for consumer products written by volunteers from around the world. Since this encyclopedia of products is a wiki and runs on Mediawiki -- the same application that powers the popular wikipedia online encyclopedia, this means, anyone who visits this website can contribute to it's contents.
Apart from over 150,000 products already listed and editable on this wiki, users are free to create articles for products that aren't already listed. Thousands new product stubs (articles with information provided by online merchants) are uploaded regularly so that the TalkingThings.com database can be quickly populated with as many products as possible and encourage users to include as many details about these products as they wish on these pages.
Since the website has only just launched, there are many more features still in the works. Some of these include a product rating and review system, and a full featured social networking system integrated with the wiki.
The TalkingThings product encyclopedia can be accessed at http://www.talkingthings.com and a list of all product articles currently online is available at http://www.talkingthings.com/index.php/Special:Allpages
###