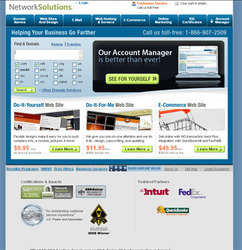 Our customers spoke and we listened
Herndon, VA (PRWEB) September 26, 2007
When it comes to accessing account information for their online services, small business owners need to be able to get to the information they need, when they need it. Easy account navigation and clearly marked categories are all necessities when researching account information. In response to requests from their customers for a more user-friendly interface, Network Solutions® announced today a complete redesign of Account Manager.
"Our customers spoke and we listened," said Shelley Rawlings, SVP of Sales and Service with Network Solutions. "Our customers wanted an easier experience when it came to managing their accounts, and we are giving it to them. The new Account Manager redesign includes features that allow customers to easily access information when they need it. The best part is, we're not done. There are more Account Manager changes to come."
Making it even easier for small businesses to run their online business, the updated NSI Account Manager is better organized and much more intuitive so that customers can find what they want easily and quickly. Now organized by services rather than domains, customers can get to the products they need to update with fewer clicks, saving time and taking care of edits quickly. Folder options are also available for searching, sorting and organizing multiple domain names. New tabs such as Profiles and Accounts allow customers easy access to the account administration panel where they can change contact and billing information as well as other account information.
When logging into their Account Manager, customers will now see Updates and Alerts, where they can quickly see when action needs to be taken on one of their services, such as set up or renewal. The NSI design tool, ImageCafé®, is also much easier to access in Account Manager making it simple for small business owners to update their Web site.
To learn more about the Network Solutions new Account Manager, please visit the Account Manager Demo. For more information about NSI® and their suite of online services for small businesses, please visit NetworkSolutions.com.
About Network Solutions
A leading provider of Web solutions and the pioneer of the domain name registration service, Network Solutions offers a full range of Web-related services that includes Web hosting, Web design, e-commerce software, search engine marketing, SSL certificates, e-mail services and domain name registration.
###