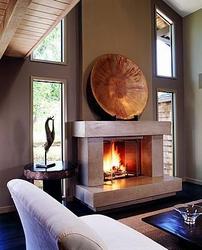 Yucaipa, CA (PRWEB) September 27, 2007
The decorative concrete options available for concrete fireplaces abound. As one of the most visible design elements in a room, fireplaces serve as both a focal point and a reflection of the owner's personal style. The elements framing the fireplace -- the mantel, hearth and surround--do the most to transform a room's appearance and establish a mood. With the right surround, a fireplace becomes the heart and soul of a room and embodies its character.
Before taking the plunge into designing a custom concrete fireplace surround for your home, consider this list of tips offered by concrete contractors.
1. When designing with concrete, consider adding leaves or other elements from your property or incorporate architectural details from your home's design.
2. Match or complement other design elements in your room such as a rug, piece of art or furniture or window treatments.
3. Enjoy a fireplace in areas beyond the traditional living room. Install them in kitchens, bedrooms, bathrooms, or outdoors. Two sided fireplaces can be enjoyed from two rooms.
4. Consider your options carefully. Will you want to hang stockings on a traditional mantel or sit on a hearth? Will your fireplace be gas burning or natural wood burning?
5. To manage your budget, remember that intricate details and curves add to the cost. Using more straight lines and minimizing small details are more economical design choices.
6. Use cardboard cut to the desired dimensions of your fireplace and temporarily place them in your room. This will give you a feel for scale, shape and placement.
7. Be sure to research fireplace photos on the internet and magazines. Show the contractor photos of what you do and don't like.
8. Be sure to pick out a firebox and have it inserted into the surround. Do not have your contractor build one.
9. Once you've decided on a design, have your contractor make a mock-up, and provide color samples so that all parties are on the same page on what to expect.
10. Because there are so many options available, be sure to ask questions, and ask to see a contractor's portfolio of work. They can guide you in the right direction.
Established in 1999, The Concrete Network's purpose is to educate consumers, builders, and contractors on popular decorative techniques and applications. These include stamped concrete, stained concrete floors, concrete countertops, polished concrete, and much more. In July 2007 The Concrete Network Website had over 1.3 million visitors researching decorative concrete.
The site excels at connecting buyers with local contractors in their area through its Find-A-Contractor service. The service provides visitors with a list of decorative concrete contractors throughout the U.S. and Canada, and is fully searchable by 23 types of decorative concrete work and 202 regional areas throughout North America.
Article photo courtesy of Buddy Rhodes Concrete Products. Attached photos courtesy of Concrete Interiors.
###