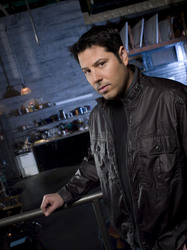 Greg has first-hand knowledge of the challenges faced by those with epilepsy and their loved ones
Los Angeles, CA (PRWEB) September 26, 2007
The Epilepsy Foundation of Greater Los Angeles announced today that Greg Grunberg, a member of NBC's Emmy nominated ensemble drama series "Heroes", will chair this year's Epilepsy Freedom Walk on October 14, 2007 in Griffith Park. Greg recently participated in the National Walk for Epilepsy in Washington, D.C. This event marks his first involvement with the local epilepsy walk.
"Greg has first-hand knowledge of the challenges faced by those with epilepsy and their loved ones," said Susan Pietsch-Escueta, the executive director of the Epilepsy Foundation of Greater Los Angeles. "While we are saddened by the reality of Greg's own challenges; we're delighted that Greg and his family are helping us raise awareness for this important event. Epilepsy has lived in the shadows for too long. We hope this year's event will turn more eyes, and hearts, to our cause."
Grunberg, whose eldest son has epilepsy, founded Band From TV, a celebrity band with a powerhouse lineup of well-known and acclaimed actors including: Hugh Laurie ("House"), James Denton ("Desperate Housewives"), Bonnie Summerville ("Cashmere Mafia") and Bob Guiney ("The Bachelor"), to help raise money and awareness for Epilepsy. As well as playing live gigs, Band From TV will be releasing their debut DVD/CD "Hoggin' All the Covers" later this year.
NBC's "Heroes" follows the lives of ordinary people who discover they possess extraordinary abilities. In "Heroes", Grunberg plays Matt Parkman, a down-on-his-luck LAPD beat cop who can read minds. Grunberg is best known for his role as the lovable Eric Weiss on "Alias," where he spent four seasons thwarting the menacing plans of the world's most dubious villains. Audiences first fell in love with Grunberg when he starred as Sean in four seasons on "Felicity."
"It's an honor to be the co-chair of such an incredible event that gives people who have epilepsy, both young and old, and their families a chance to come together in a positive way," says Grunberg. "This event allows us to make a real difference in removing the stigma attached to this terrible neurological disorder by raising both awareness and funds."
The Epilepsy Freedom Walk, which begins at 11:00am, is open to anybody in the Southern California region who wishes to get involved. Individuals can participate as an individual Freedom Walker or as a member of a Freedom Team, such as Grunberg's team the "Crazy Brain Waves" led by his son and team leader Jake. Individuals can also start their own Freedom Team or simply donate to the cause without walking.
To register, visit: http://epilepsyfreedomwalk.kintera.org. Pre-event registration costs $25.00. Onsite registration costs $35. Registration fees include an event t-shirt (while supplies last), an In-N-Out Burger® lunch, fun and games. Companies interested in sponsoring the event should contact Lynda Louden at 310.670.2870.
About Epilepsy:
When a person has two or more unprovoked seizures, they have epilepsy. According to the International League Against Epilepsy, there are 2 main types of seizures - partial or generalized - and more than 25 recognizable syndromes affecting 3 million people in the U.S. and 40-50 million people worldwide. This year, another 200,000 people in our country will be diagnosed. To date, there is no known cure.
About the Epilepsy Foundation of Greater Los Angeles:
Established in 1957, the Epilepsy Foundation of Greater Los Angeles is the only non-profit, 501(c)(3) charitable organization dedicated solely to serving the estimated 150,000 to 180,000 people living with epilepsy in this region. Our mission is to improve the lives of people affected by epilepsy by promoting care, prevention, research and cure through education, support services, programs, advocacy and awareness. The Epilepsy Foundation of Greater Los Angeles is affiliated with the Epilepsy Foundation of America in Landover, Maryland.
###