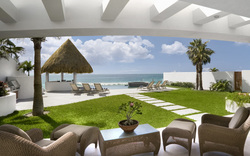 The addition of these exceptional homes further demonstrates how Solstice continues to live up to their already exceptionally high standards for real estate quality and selection of destinations in top-tier global travel markets
Scottsdale, Ariz. (PRWEB) September 26, 2007
Marking a summer of unprecedented member growth, Solstice, the ultra-luxury leader in the $2 billion destination club industry, announced further expansion of its international collection of residences with three key additions: two in New York City and a direct beachfront home in Cabo San Lucas, Mexico.
"The addition of these exceptional homes further demonstrates how Solstice continues to live up to their already exceptionally high standards for real estate quality and selection of destinations in top-tier global travel markets," commented Andrew Harper, the ultimate resource for the luxury traveler and editor of Andrew Harper's Hideaway Report. Additional beachfront and specific urban locations were top priorities for Solstice members, according to surveys conducted earlier this year.
"Solstice had a very successful summer in terms of new member growth, home acquisition and global industry leadership recognition. With strong sales of new memberships, our total deposits grew almost 25% and we are now concurrently recognized as Robb Report's 'Best of the Best' and Business Britain's 'Best International Destination Club'--obviously we're very pleased," said Solstice Chairman Tim Wolff. The club passed the 80-member mark and has acquired new homes to satisfy demand.
Cabo San Lucas - Casa Playa Blanca
Casa Playa Blanca is both spacious and private, offering direct access to a white, sandy beach that awaits just steps from a retractable glass wall. Elegantly comfortable living spaces, including a media room and a spacious conversation room, offer an ideal floor plan for entertaining. Outdoor vignettes encourage friendly gatherings under the stars that stretch from poolside to beachfront. Casa Playa Blanca is sure to engage the senses with hypnotic ocean rhythms and see-forever views that lie just beyond.
"Casa Estrellas, the current Solstice home in Cabo, has the highest utilization of any of the residences in our portfolio. In keeping with our member-driven philosophy, the club actively sought an additional home in this tremendous destination going into the peak travel season," stated Solstice Founder and Director of Real Estate Acquisitions, Graham Kos.
West Village, New York - Glass Houses
The Solstice New York units are within one of the West Village's newest and most important glass architecture buildings. The glass building movement has given rise to the popular West Village enclave that traces along the Hudson River and Charles Street.
"The Zen-inspired architecture of our building and its location in the city makes these stunning homes a perfect addition to our collection," explained Kos. "Dramatic Hudson River and city views will offer our members an authentic New York City living experience in one of the area's most coveted neighborhoods."
In addition to the building's prime location, the homes are sleek and modern architectural masterpieces with state-of-the-art systems. With multiple outdoor spaces, each unit provides several common areas for entertaining and a complete virtual office, so work and leisure can be seamlessly integrated into an urban base camp. Custom finishes and contemporary art and furniture will complement the style and substance of sophisticated city living.
The generous size of the larger Solstice home and its three bedrooms makes traveling to New York as a family or group of friends a reality for Solstice members. The second home is a spacious one-bedroom unit that is perfectly suited for a weekend getaway for two or a business trip where entertaining figures into a member's plans. Terraces face both north and south. Both units will be available to Solstice Members in Fall 2007.
About Solstice:
Solstice is recognized internationally as the "Best of the Best" by Robb Report and Best Internationally 2007 by Business Britain. As the leader in the ultra-luxury segment of the $2 billion destination club industry, Solstice appeals to affluent global consumers seeking a suitable alternative to second-home ownership. The company's members receive the highest levels of personalized service and virtually unlimited access to a collection of 13 architecturally significant homes with an average value of $6.5 million. Home locations include Aspen, Florence, London, Paris, St. Barth's and Telluride, along with a private 90-foot yacht that explores the British Virgin Islands. For more information, visit http://www.solsticecollection.com.
###