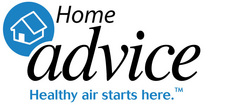 Now, with the new [HomeAdvice] technology, we can reach the next level. We can clearly demonstrate the need for zoning and sell more high efficiency systems. This ties directly to our focus on whole home systems overall.
Portland, Ore. (PRWEB) September 26, 2007
AirAdvice, Inc. is opening new doors for residential HVAC contractors by launching expanded advanced home diagnostics solutions. Fully compatible with existing full-featured AirAdvice monitors, the new HomeAdvice™ solutions include:
Wireless monitors measure multiple locations for more complete comfort and energy savings analysis
A communication gateway transmits data via cellular network to the HomeAdvice server, eliminating the need for a standard land line
New SmartIAQ Plus™ reports effectively highlight comfort issues and opportunities to save energy
The HomeAdvice system makes it easy for HVAC contractors to offer zoning, ventilation, energy, and indoor air quality (IAQ) solutions. The innovative, easy-to-use system now combines powerful wireless diagnostic tools and personalized reports with enhanced capability to show where there are problems in the home and how to fix them.
"HomeAdvice delivers more of what our contractors told us they wanted," says Isaac Simpson, vice president of contractor services at AirAdvice. "More diagnostics, more information for their customers on energy and system performance. HomeAdvice is about helping contractors serve their customers. We've got some exciting new technology and program updates - it's a whole new level of home diagnostics, developed as a direct result of contractor input and initiative."
The new and expanded HomeAdvice features give contractors the ability to quickly and easily identify hot and cold spots in the home through simultaneous multi-room testing, as well as sophisticated time-based diagnosis of the most common indoor environment issues: humidity, temperature, particle allergens, chemical pollutants, carbon dioxide, and carbon monoxide.
Every HomeAdvice report illustrates test results and recommendations for customers along with important educational information, detailed analysis sections, and colorful charts and graphs. In addition, the new HomeAdvice SmartIAQ Plus™ report lets contractors easily combine data from multiple monitors into a single, comprehensive report.
"The way the new [SmartIAQ Plus] report displays temperatures from different areas in the home is a selling point for me," says Ted Kirkland at Bland Air Conditioning & Heating in Bakersfield, California. "It shows people that they have hot and cold spots in their home, which opens doors for me. I can sell more variable speed systems that way."
The updated HomeAdvice reports offer additional advantages to help contractors visually demonstrate problems and offer the right solutions. The Outdoor Environment page more effectively shows the outdoor temperature and humidity at the test location. The Energy Use page features a specific energy recommendation plus new "green" and programmable thermostat sections to better show homeowners how an equipment upgrade might impact their energy bill and their carbon footprint.
"We've had success using AirAdvice to sell equipment upgrades and add-on IAQ solutions," says Jonathan Moscatello, comfort advisor at Oregon Heating and HomeAdvice system beta tester. "Now, with the new [HomeAdvice] technology, we can reach the next level. We can clearly demonstrate the need for zoning and sell more high efficiency systems. This ties directly to our focus on whole home systems overall."
More About the HomeAdvice™ Advantage
HomeAdvice is a turnkey program that easily integrates into contractors' existing business processes and creates opportunities for new service offerings. Ongoing coaching, training, marketing programs, and other support are available to HomeAdvice users to help ensure contractor success.
Learn more about the HomeAdvice system at http://www.airadvice.com. Or, visit AirAdvice at these events:
About AirAdvice, Inc.
AirAdvice, Inc., headquartered in Portland, Oregon, was founded in 1999 to help people improve their quality of life by taking charge of their indoor environment.
AirAdvice develops innovative technologies to monitor and analyze building performance and indoor environment factors that impact occupant comfort, health, and safety as well as system and building efficiency. The HomeAdvice™ and BuildingAdvice™ systems enable contractors, facility managers, and building owners to identify opportunities to reduce energy costs, improve the operational efficiency of heating, ventilation, and air conditioning (HVAC) systems, and solve indoor environmental quality issues.
More than 1,500 contractors and 30 distribution companies across North America use the HomeAdvice™ and BuildingAdvice™ systems. For more information, contact AirAdvice at http://www.airadvice.com.
###