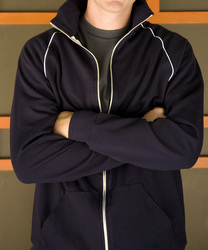 Ask anyone over 200 pounds or bigger than six feet if they're happy with their fashion choices --they aren't
Los Angeles, CA (PRWEB) September 26, 2007
Colossal Clothing today announced the introduction of a Big and Tall fashion line that features softer and thicker 100% cotton fabrics, better, non-tent-like tailoring, and styles that aren't limited to the Hawaiian shirt.
"Ask anyone over 200 pounds or bigger than six feet if they're happy with their fashion choices --they aren't," said Dave Friedman, chief executive officer and himself a big guy. "Colossal Clothing offers the coolest no-logo, well-tailored big and tall t-shirts, polos, tank tops, track jackets, and hoodies available. Not only are they inexpensive, but they're made in downtown Los Angeles under special arrangement by American Apparel, America's largest and finest clothing manufacturer."
Colossal Clothing's line includes Big (sizes XL - 5XL) and Tall (sizes XLT & 2XLT) at reasonable prices as a result of American Apparel's volume-driven, U.S.-based manufacturing capability. "By using American Apparel to manufacture our line, we get garment quality that's far, far higher than those made overseas in places like China. Everyone else thinks Chinese production saves money, but we manage to produce better quality in the US, while charging even lower prices than virtually all our competitors."
All Colossal Clothing garments are tailored for both practicality and style. Every big-size garment has a longer front panel to accommodate a bigger girth, so both front and back end up equally long when worn, along with wider armholes for greater comfort. Every tall-size garment has extra long sleeves and an extra long torso, so tall men don't come up short.
Colossal Clothing garments also focus on the cut and feature a unique design that accentuates the musculature of men's shoulders and chest, while avoiding the typical exponential "tent-cut" that plagues most big and tall clothing.
Colossal Clothing is available at http://www.ColossalClothing.com. It will hit Big and Tall stores nationwide in early 2008.
Note to the Editor: Clothing is available for photos.
###