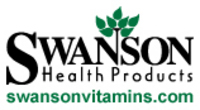 Fargo, ND (PRWEB) September 27, 2007
The makers of Ester-C® are limiting the availability of their product. In response, Swanson Health Products sought to replace Ester-C with an effective alternative, and they found it in Swanson Ultra PureWay-C.
Unlike any other vitamin-C product on the market today, PureWay-C enhances delivery, availability, absorption kinetics, distribution and uptake of vitamin C. PureWay-C has powerful benefits for nervous system, skin and immune system health.
In the near future, the popular Ester-C form of supplemental vitamin C will become more difficult to find because the makers have decided to protect their product by limiting its availability. Switching to PureWay-C gives people an effective alternative and guarantees the supplement will always be available.
A bottle of 90 capsules at 500 mg per capsule sells for only $4.99 and is available at swansonvitamins.com, where they are offering free shipping on orders $65 or more for a limited time.
Swanson Health Products is an industry leader in bringing vitamins direct to consumers at the lowest price possible. Swanson Health Products goes a step beyond its competitors by offering powerful guarantees. All products are backed by a 100% Satisfaction, Money-Back Guarantee and Double the Difference Lowest Price Guarantee.
###