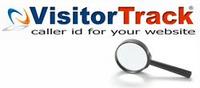 We were showing some suspicious activity on people clicking on our ads, and we'd end up falling offline frequently
Littleton, CO (PRWEB) September 27, 2007
netFactor, the leading provider of website visitor tracking technology for the business-to-business market, has announced a number of features newly introduced toVisitorTrack® - it's "Caller ID for a Website" product for Internet lead generation. As a result, clients will now have added search and reporting capabilities unavailable in any other web tracking product. These include the ability to leverage the new Google Adwords IP Blocking features, in addition to other expanded Visitor reporting options.
With Google Adwords' IP blocking, search engine marketers can prevent the display of their paid ads to selected viewers - such as to competitors, vendors, etc. This offers obvious advantages for preventing click fraud and decreasing wasted click fees. But to use this feature, one must be able to identify the specific IP Address associated with each Visitor. VisitorTrack® provides a new one-click function that makes it easy to pinpoint these Visitors, their IP Address, and to drop this into a Google Adwords account for blocking.
"We were showing some suspicious activity on people clicking on our ads, and we'd end up falling offline frequently" stated Josue Orozco, Marketing Communications Manager for One Step Retail Solutions, a leading provider of Retail Pro Software. "Since we implemented VisitorTrack's IP blocking feature, the suspicious activity ceased and we're staying online much longer. Coincidence? I don't think so. Regardless, I no longer worry about click fraud, thanks to these new features in VisitorTrack®. "
VisitorTrack® is a marketing toolset for tracking website visitors. It is wholly oriented to converting invisible 'clicks' into B2B sales leads - without any Visitor registration action. Working just like "Caller ID for a Website," VisitorTrack® provides actionable intelligence in real-time on a Website's business visitors, including detailed company information, target executives and key contacts. Other new enhancements enable the setting of custom and automated report deliveries, and to perform searches - for the Companies visiting a website, their location, or for the keywords and search phrases used.
"We have found the new features in VisitorTrack invaluable" said Melinda Powers, Chief Marketing Officer for TIE Commerce, a global Electronic Data Interchange software company. "We have the ability to automate and customize reports specific to our organization's needs as well as perform key searches on specific keywords and Company visits."
About netFactor
netFactor Corporation provides a suite of products to drive new levels of sales performance from Internet marketing for the business-to-business market. The company's core VisitorTrack® technology platform integrates search engine marketing, marketing automation, and Web analytics into a powerful application for lead generation from website visitor tracking - it's like "Caller ID for Your Website." netFactor is privileged to serve customers across multiple industries including software, telecom, healthcare, technology, financial, professional services, manufacturing, and transportation. For more information on netFactor Corporation's performance-driven products and services for Internet marketing, please visit http://www.netFactor.com.
###