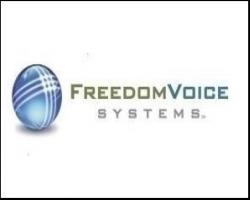 The point here is that we can add a very wide assortment of valuable features instantly.
Encinitas, CA (PRWEB) September 26, 2007
FreedomVOICE Systems, a leading provider of a wide array of business communications tools, today announces launch of its hosted PBX service, called FreedomIQ, targeted to companies needing phone solutions that can grow as they do. The announcement was made at the 2007 Channel Partners trade conference in New Jersey.
"As this new development in business communications develops, we feel there are three areas where hosted PBX and iPBX services need to provide value," said Eric Thomas, CEO and founder of the 11 year-old company. "They have to be easy to use. They have to be flexible. And they have to be affordable both now and into the future. FreedomIQ offers a tangible benefit over other providers because it is based on our own, proprietary technology. We knew what it needed to be and that's how we built it."
According to Thomas, the user-interface has been specifically designed for simplicity. Customers can add new features and phone stations instantly through FreedomIQ's WebLINK Internet Control Panel. Such activities as changing phone numbers and logging in/out of a call rotation are easily handled by the user and no longer require the time and expertise of a system administrator, often mandatory with on-site hardwired and low-end hosted systems.
Thomas also pointed out company research that indicates growing companies often bear the unpleasant consequences of rigid PBX technology in that they need to replace the system every two to three years because it lacks the flexibility to expand as the company prospers.
"Other businesses buy a system much, much larger than they need, hoping to grow into it," said Thomas. "That's a waste of resources. FreedomIQ is offered on the basis of number of users, not the size of the system. Users pay only for what they need and can easily scale up or down as the need arises with no future penalty."
Thomas also stressed the need for customizable technology. Because FreedomVOICE developed its own technology from scratch, the company is frequently asked to customize the functionality for a particular business need, whether to capture credit card digits from telephone keypad touches, provide recorded information based on the caller's area code or a myriad other complex applications.
"FreedomIQ provides all the features of the most high-end PBX systems without the high price tag. It also offers such extras as 24/7 on-demand teleconferencing, call record and voice-to-text conversion," said Thomas. "The point here is that we can add a very wide assortment of valuable features instantly."
FreedomIQ customers will enjoy another benefit: the service incorporates redundant componentry with automatic fail-over. According to company engineers, no single component can bring the system down. And even should an entire system fail, calls are seamlessly routed to another, providing an extremely high level of reliability.
"This is one example of what I mean by 'affordable'," said Thomas. "While this level of failsafe redundancy is normally prohibitively expensive for all but the largest companies, sharing the cost with a lot of users makes it affordable. Offering phones that are pre-set and equipped with their own internal maintenance and update systems is another. No technician visits are necessary. No time wasted waiting for phones to be configured. All of that adds up to affordability."
Thomas also pointed out that resellers stand to make a higher profit by offering FreedomIQ. FreedomVOICE supplies the primary tech support, saving time for the resellers. That plus the cost savings derived from developing proprietary technology equals a very lucrative commission structure, he said.
"We think FreedomIQ is the intelligent business communications solution for companies of all sizes. It offers tremendous value to the end user and a very attractive income potential for resellers."
About FreedomVOICE Systems
Founded in 1996, FreedomVOICE Systems (FVS) develops and markets a comprehensive slate of business communications tools that allows companies to interact more effectively with their customers, clients, patients and associates. FVS' feature-rich systems and flexible technology enable users to enhance their image, communicate seamlessly whether by VoIP phone, fax or email, track marketing effectiveness and promote their service by increasing their availability.
The company offers a wide array of products and services from 800-number toll free services to more advanced unified communications systems. For more information, please call 800-477-1477 or visit our web sites.
http://www.fvscorporate.com
http://www.freedomIQ.com
Contact:
Bruce Bond
FreedomVOICE Systems
800-477-1477 ext. 822
bruce @ freedomvoice.com
###