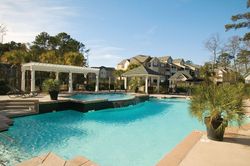 Newport Beach, CA (PRWEB) September 27, 2007
With nearly two weeks until the bid deadline, eager buyers are racing to take advantage of the opportunity to purchase, in an online auction, one of forty condos in Savannah, Georgia at an affordable price.
Freedom Realty Exchange (FRE), an online real estate auction marketing company and a member of the LFC Group of Companies, is currently auctioning these Georgia coast condos on their website, FRE.com, for a fraction of their estimated value. Furthermore, three of the units are being sold as absolute, regardless of price, to the highest bidder. When combined with the recent cut in the Federal interest rate, and the subsequent decrease in the prime lending rate, this auction is an incredible opportunity for buyers who have been contemplating relocation, purchasing a vacation home, or those who desire a great investment opportunity.
Just minutes from the heart of Savannah's Historic District, Mercer Point at Whitemarsh Island parallels the city's charm while offering a tranquil island setting. Nestled between Tybee Island, fronting the Atlantic Ocean, and the Georgia coast, this desirable location boasts a variety of outdoor activity as well as convenient shopping and dining. With its 6,500-sq-ft clubhouse, lighted tennis courts, fitness center, and a resort-style swimming pool with cabana, Mercer Point offers a refreshing approach to relaxation.
With the bid deadline of October 11, 2007 just around the corner, potential buyers are urged to visit http://www.FRE.com/146R2 and register to bid in this "must sell" auction event.
Freedom Realty Exchange - part of the LFC Group of Companies For over 30 years, the LFC Group of Companies have served numerous Fortunate 500 companies, real estate developers, investors, financial institutions and government agencies by auction-marketing thousands of commercial, industrial, land and residential properties with an aggregate value well in excess of $5 billion.
###