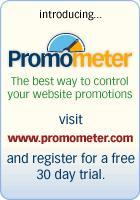 This innovative solution includes a reporting tool that allows instant performance review. Easy adjustment of both content and placement, if necessary, will increase the overall effectiveness of campaigns
Barre, VT (PRWEB) September 27, 2007 -
L9 announces the launch of Promometer the easy to use, subscription based widget creator to generate and place promotions anywhere on any website, your own or your affiliate sites and track their performance in real-time. This innovative new tool allows site owners to sign-up, immediately create their own graphical promotions using the simple editor tool, upload them, plug-in a few lines of code to publish anywhere on any site they control, including secure pages, all without costly outside assistance from a web developer or interactive agency.
What exactly do we mean by "Promotion"? - It is a unique graphical area on a web page that draws attention to content of particular importance in order to advertise a product or emphasize a message to achieve better results.
"Placing promotions strategically on the pages that attract the highest number of eyeballs on a site, in real-time, increases visibility, resulting in higher conversion rates and ultimately more sales", says Dave Mayette, CEO of L9 "This innovative solution includes a reporting tool that allows instant performance review. Easy adjustment of both content and placement, if necessary, will increase the overall effectiveness of campaigns", he adds.
There is a strong need in the age of web 2.0, widgets and mashups to make content management, advertising and promotion creation a breeze at an affordable price. Promometer meets that need and L9 expects wide adoption across all segments of the online marketplace.
For further information about how to easily launch your own online promotions, contact: Joe Buhler, L9 , 802.229.2005 x 130, joe(at)l9.com
About L9 - Transforming the Web for Financial Institutions
L9 is a partnership between two leading organizations in the Credit Union movement: Level 9 Inc, a software application, web development and design company which has spent over 10 years providing expert services and building innovative solutions for a wide range of clients who use the web as a primary channel of interaction with their customers and New England Federal Credit Union. The organizations joined forces in 2005 to bring the best of Credit Union website development to the industry. L9 specializes in website and web application development. We create websites with features ranging from member education and focused marketing promotions to complete content-managed website solutions. We understand how the web works and make it work for you.
###