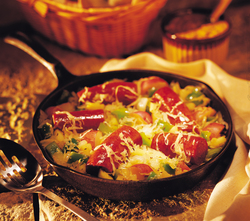 Sauerkraut is a wonderfully tart complement to rich-tasting German sausages
Bear Creek, WI (PRWEB) September 28, 2007
Great Lakes Kraut, a leading sauerkraut manufacturer and winner of ChefsBest™ award, presents Oktoberfest recipes. As summer draws to a close, people across the country are dusting off their beer steins and preparing their favorite Sauerkraut recipes for the greatest celebration of German heritage: Oktoberfest.
What began as the wedding celebration of Crown Prince Ludwig and Princess Therese of Saxe-Hildburghausen just outside of Munich in 1810, Oktoberfest is now part of American culture with more than 140 celebrations across the United States. American Oktoberfest gatherings feature traditional German musicians, Marzen beers, German sausages, and of course, Sauerkraut.
"Sauerkraut is a wonderfully tart complement to rich-tasting German sausages," said Ryan Downs, co-owner of Great Lakes Kraut Co. "It cuts through the spiciness of a bratwurst and enhances the flavor. It's the perfect marriage," Downs said.
Traditional German dishes featuring sausages, potato dumplings, and Sauerkraut are standard fare during Oktoberfest. Downs recommends the Savory Sausage and Kraut Skillet paired with your favorite German brew. Made with potatoes, Sauerkraut, and Kielbasa or the smoked beef sausage of your choice, this recipe is sure to be a hit.
For something more contemporary, but still crowd pleasing, try the Bavarian Crostini with melted Swiss cheese and Sauerkraut on pumpernickel bread.
Silver Floss® and Krrrrisp Kraut® Sauerkraut, winners of the ChefsBest™ Award as America's best-tasting Sauerkraut, are manufactured by the world's largest Sauerkraut producer, Great Lakes Kraut Co., LLC, Bear Creek, Wis. With processing facilities in Bear Creek and Shortsville, N.Y. -- the best cabbage growing regions in the world -- the company combines modern technology and four generations of Sauerkraut-making expertise to produce the country's leading brands. Silver Floss canned and jarred Sauerkraut is found in the canned vegetable section of grocery stores in the East, South, and Midwest. Krrrrisp Kraut refrigerated Sauerkraut is located in the meat department at grocery stores nationwide. For more information about Great Lakes Kraut and its award-winning brands, visit http://www.sauerkrautnews.com.
Savory Sausage and Kraut Skillet
Ingredients

2 Tbsp. butter
1 medium onion, chopped
1/4 cup chopped green pepper
1 apple, peeled, cored and grated
2 Tbsp. brown sugar
1/2 tsp. caraway seeds
12 small red potatoes, cleaned
1 1/2 cups Krrrrisp Kraut® Sauerkraut
1 lb. smoked beef sausage or kielbasa
Cut sausage into 3-inch pieces. Melt butter in skillet; add onion and green pepper and cook until tender. Add apple, brown sugar, caraway seeds, potatoes, and Sauerkraut; mix well. Place sausage on top of Sauerkraut mixture. Cover and cook over medium-low heat for 30 minutes.
###