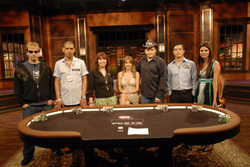 Las Vegas, NV (PRWEB) September 28, 2007
This week's match on NBC's Poker After Dark features five familiar faces, three of whom had victories in PAD's first season, and one newcomer. Returning are previous winners Phil "The Unabomber" Laak, John Juanda, and Clonie Gowen. These three will look to join Howard Lederer as the only other two-time winner on PAD. They are joined by Annie Duke, Andy Bloch, and David Williams, who will all compete for the $120,000 winner-take-all first prize.
Laak, Juanda, and Gowen represent an interesting contrast of personalities. Laak's antics and chatter, of course, have made him one of the more entertaining players to watch on television, as his victory over long-time rival Antonio Esfandiari last season will attest. Juanda's road to victory in PAD's first season was in sharp contrast to Laak's, as he engaged in a "strictly business" heads-up battle with Allen Cunningham, with nary a word exchanged between them. Gowen's victory during Ladies Week showed that she is certainly not shy about mixing it up, either verbally or with her play.
Duke, who has appeared twice on the show, and Bloch, who has appeared once, will be looking for their first victory. Duke is known to be chatty, while Bloch talks less but is always cordial. All of the players this week possess friendly natures, so look for lighthearted exchanges between them.
This will be PAD's first look at the sometimes-flamboyant Williams, who is known to wear just a touch of bling on occasion. But ever since emerging on the poker scene with his second-place finish in the 2004 World Series of Poker main event good for $3.5 million, Williams has added another $2.2 million to his coffers in tournament play, and is currently ranked 22nd on the all-time money list.
Brief profiles of all six players follow. The match will begin airing on NBC late night Monday at 2:05 AM, September 24, and will continue for five consecutive nights in the same time slot. A special program called the "Director's Cut" will air late night Saturday, September 29, at 1:00 AM, right after Saturday Night Live. This show will feature a behind-the-scenes look at the week with highlights and insightful player interviews.
Each of the match's six segments can also be viewed daily at http://www.nbcsports.com/poker. More detailed information on the players is also available there and at http://www.pokerafterdark.com.
This match features a near-record comeback by one of the players, some fast play by another and some very interesting hands. For fans, picking the winner before the match begins will again not be easy, and affords a great opportunity for side bets among friends.
Phil Laak: (Seat 1)

Nicknamed "The Unabomber" for the trademark hooded sweatshirt and sunglasses he usually wears
Career tournament winnings in excess of $1.27 million
Known for his unusual and often humorous antics and mannerisms at the table
David Williams: (Seat 2)

Winner of one WSOP bracelet, and was runner-up to Greg Raymer in the 2004 WSOP main event
Lifetime tournament winnings in excess of $5.75 million, and ranks 22nd on the all-time money list
According to an interview in ALL IN magazine, didn't wear the same pair of shoes from April 2006 until at least October 2006
Annie Duke: (Seat 3)
Winner of one WSOP bracelet
Career tournament winnings in excess of $3.47 million
Ranks 2nd on the women's all-time money list, trailing only Kathy Liebert
Andy Bloch: (Seat 4)
Holds two electrical engineering degrees from MIT and a law degree from Harvard
Lifetime tournament winnings in excess of $2.97 million
Donates a great deal of the money he wins playing to charity
John Juanda: (Seat 5)
Owns three WSOP bracelets
Career tournament winnings in excess of $6.90 million, and ranks 14th on the all-time money list
Soft-spoken at the tables, he has aspirations of becoming a physician once his playing days are over
Clonie Gowen: (Seat 6)
Real first name is Cycalona, a name inspired from being born during a powerful storm in Oklahoma
Career tournament winnings in excess of $570,000
One of poker's more attractive women players, she appeared on the cover of the July 2006 issue of Maxim magazine
This press release was written by Dennis Oehring, who is a freelance writer and poker consultant and works with the firm POKER-PROductions. Statistical information courtesy of The Hendon Mob player database. Photo courtesy of NBC's Dave Bjerke.
###