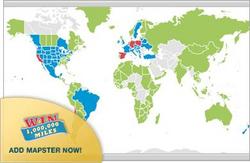 It's going to make one lucky traveler out there extremely happy for a long time to come.
Los Angeles, CA (PRWEB) September 27, 2007
Leading travel research website VirtualTourist.com has launched the "1,000,000 Mile Giveaway," the first sweepstakes that uses a Facebook Application as a means of entry.
Celebrating the recent release of Mapster -- an interactive world map -- VirtualTourist will reward users who download Mapster to their Facebook account with an entry into a grand drawing for 1,000,000 frequent flyer miles.
Once entered, Facebook users can also greatly increase their number of entries in several easy and fun ways. For each friend who adds Mapster, the user gets one extra entry. Signing up for the VirtualTourist Deals Newsletter means three bonus entries. Furthermore, users synching their Facebook map with their VirtualTourist account will earn a bonus called the VirtualTourist Multiplier, which doubles their total number of entries.
"As one of the largest and most established travel-information websites, we know our users look to us for content and applications that will help make their travel research more efficient, and more fun," said J. R. Johnson, CEO and co-founder of VirtualTourist.com. "Mapster is a tool that does just that, and we are excited to spread the word about it through this giveaway."
The winning participant will receive 1,000,000 frequent flyer miles through US Airways Dividend Miles program. Dividend Miles can be redeemed on Star Alliance airlines, which include Air Canada, Air New Zealand, Asiana Airlines, Austrian Airlines, Lufthansa, Singapore Airlines, United Airlines and US Airways, among others.
"This type of prize ties so well to the Mapster application because the viewer is going to be able to see most of the world. We're giving away enough miles to fly back and forth from Los Angeles to New York City every month for over three years, or to fly around the world five times," says Johnson. "It's going to make one lucky traveler out there extremely happy for a long time to come."
The "1,000,000 Mile Giveaway" runs through January 15, 2008, and is open to United States residents 18 years of age or older.
About VirtualTourist's Mapster
A customizable world map on which users click to mark countries they have visited, lived in, or wish to visit, Mapster is the first of its kind. This Facebook application is the first internet travel map that automatically updates and synchronizes across numerous websites when edits are made by the user. VirtualTourist's Mapster can be created on VirtualTourist.com and Facebook. Customized maps can then be quickly exported for viewing to any Web page that allows HTML coding, such as MySpace or most blogs.
About VirtualTourist.com
VirtualTourist.com is one of the largest online travel communities in the world and a premier resource for travelers seeking an insider perspective on travel information, from Las Vegas hotels to New York City restaurants. At http://www.virtualtourist.com, real people share real advice on places they've traveled as well as their hometowns; they research and plan trips, and they interact with other avid travelers via travel forums and email; over six million travelers use the site monthly. VirtualTourist boasts more than 1.5 million travel reviews and 3 million photos on more than 25,000 destinations worldwide. Unbiased, user-generated content on Hotels, Attractions, Local Customs, Tourist Traps and much more is posted entirely by VirtualTourist's more than 930,000 registered members from over 220 countries and territories, and the site's Trip Planner feature allows users to create custom print-and-go travel guides. Among VirtualTourist's awards and accolades: 'Sites that Changed Our World,' The Guardian; 'Favorite Website,' Newsweek; '35 Best Travel Sites,' Travel + Leisure.
# # #