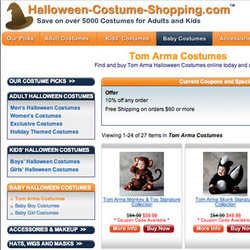 Austin, TX (PRWEB) September 27, 2007
Everyone wants to have the latest and greatest costume this Halloween season. Fortunately, the Halloween Blog offers complete coverage of the Top 10 Halloween Costumes for 2007, all available for purchase from Halloween-Costume-Shopping.com! From hot movie-themed costumes like Star Wars costumes, Harry Potter Costumes and Shrek costumes, to classic ghost or witch costumes, all the top costumes for this Halloween are here for you to review and buy in plenty of time for trick-or-treating and Halloween parties. Halloween-Costume-Shopping.com also brings you top 10 costume lists like the Top 10 Tom Arma Costumes for Babies, as well as entertaining Halloween Decorations for your Halloween party, and even Halloween Costume Coupon Codes to help you save on costumes, decorations and more.
Sexy Halloween costumes are always hot, and they are especially so this year. Sexy schoolgirls, sweet and sexy devil costumes and frisky firemen are just a few of the super sexy costumes for Halloween 2007. And if movie-themed characters or sexy costumes aren't for you, you can't go wrong with a classic costume like a witch costume for Halloween. Start thinking now about your Halloween costume for Halloween 2007, and use Halloween-Costume-Shopping.com as your resource for costume ideas and money-saving Halloween costume coupon codes.
The Halloween Blog at http://www.halloween-costume-shopping.com/blog/ , recently launched to provide Halloween costume ideas and general tips for Halloween 2007, has enjoyed great success and popularity thus far as a comprehensive Halloween resource. Costume ideas for men, costume ideas for women, costume ideas for kids and costume ideas for babies can all be found on the Halloween Blog. The blog also offers Halloween decorating ideas, pumpkin carving concepts, Halloween games, Halloween party tips (for kids' and adults' parties), Halloween treat and more. Check out the Halloween Blog for fun tips that will revolutionize your Halloween.
And as if that weren't enough, the Halloween Blog also features an acclaimed mystery series from award-winning mystery writer Henry Slesar. Titled "The Mask: A 15-Day Halloween Mystery," the tale is a suspenseful tale of a cover-up at Halloween time. Read the first installment of "The Mask: A Halloween Mystery" today and check back on October 2 for the next part of the story. Countdown to Halloween with the 15-day mystery series.
Website editor Sally Grace says, "We're excited about the success of the Halloween Blog thus far and hope people will continue to refer to it as an indispensable Halloween resource for the rest of September and October!"
Use the Halloween Blog and Halloween-Costume-Shopping.com as your ultimate Halloween resources for costume ideas, Halloween decorating tips, Halloween party planning, Halloween costume coupon codes and more in 2007.
# # #