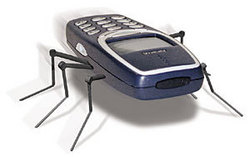 We have been on the market for a number of years and we already released dozens of new softwares
Mulhouse, FR (PRWEB) September 28, 2007
Neo-Call, a software package enabling users to monitor calls on a predefined target phone, announces a major upgrade integrating Bluetooth technology: Neo-LOG PRO. Users can eliminate data transfer charges between phones using Bluetooth and can set transfers according to a regular schedule or on request.
Recent press reports chronicling the competing package Flexispy's arrival on the market have cast cell-phone surveillance software in a negative light. M. Malone, spokesperson for Neo-Call, says it's very clear his company's software, not the recently released Flexispy package, was the first on the market. He warns users not to let bad press keep them from evaluating the merits surveillance products for legitimate uses.
"We have been on the market for a number of years and we already released dozens of new softwares," Malone said. "Neo-Call is the world's first that offer free trial period for the purpose."
Neo-Call works in the following way. Users install the software on a target phone and set their telephone number a predefined monitoring number. Whenever someone places a call to or from the target phone, their telephone numbers, voice recordings and text messages can be heard and recorded by someone calling from the phone with the predefined number. The software also provides a means of determining where a cell phone is geographically at a given moment.
"Unlike other software packages, ours does not require a third party intermediary server during data transfer," Malone said.
Neo-Call can be used to check a wayward spouse's phone, see if your teenager is dealing drugs or has fallen in with the wrong crowd, track a stolen car, see if employees are sharing secrets and keep track of members of a sales force, or use as a mobile baby monitor. Users must be careful to know the laws regarding listening to and recording calls because they are responsible for following laws in all jurisdictions where they are using Neo-Call.
Until now, users have been forced to rely on SMS and GPRS transfer to glean data from the target phone. This method results in data transfer charges to the target telephone but not the recipient's telephone. Bluetooth is a much better option for data transfer because neither phone incurs charges. Furthermore, it means data can now be downloaded from prepaid cell phones that have run out of units. Using Bluetooth, all data, including voice recordings, SMS copies, and a call list, are stored on the target phone and readied for a regular daily transfer to the recipient's phone.
To order, visit the company's website at http://www.neo-call.com/index.php?env=-index:m3--1-4-s. Buyers can customize software on the fly and download a package with the selected components to their telephone. Free trial is available at http://www.mobile-secuware.com.
Contact:
Aston Maurice
Neo-Call
+33614677471
[email protected]
# # #