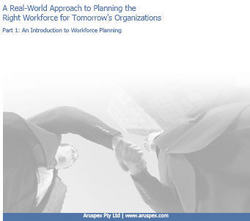 Most organizations expend a great deal of energy to effectively plan for future products, services, customers, competitors and finances
San Francisco, CA (PRWEB) September 28, 2007
An organization's future is influenced by people trends and hiring practices, but the future can be changed by planning ahead. That's the philosophy behind a new series of reports titled, Strategic Workforce Planning: A Real World Approach to Planning the Right Workforce for Tomorrow's Organizations.
The first installment - Part One: An Introduction to Workforce Planning - is now available from Aruspex, a leading provider of workforce planning software and consulting services. The first in a series of two, the white paper is available for free download at: http://www.aruspex.com/knowledge_centre_whitepapers.html.
It describes a framework for workforce planning and demonstrates why an organization should workforce plan. The next paper (to be released in October 2007) will show how to implement workforce planning in an organization.
"Many organizations lack a framework or tools to understand and analyze future workforce needs, let alone to make the changes necessary to improve the future," explains Stacy Chapman, Aruspex co-founder. "The only effective way to tackle the challenges of the future workforce is Strategic Workforce Planning, and these reports describe why and how to do just that."
"Introduction to Workforce Planning" includes the following topics:

The Strategic Benefits of Workforce Planning
Why Workforce Planning Isn't Already Commonplace
Difficulties with Quantification
The Economic Benefits of the 'Right' Workforce
How the Environment Drives Business Transformation
"Most organizations expend a great deal of energy to effectively plan for future products, services, customers, competitors and finances," notes co-founder Tess Walton. "Yet few apply these same strategic techniques to people planning, despite the fact that CEOs often refer to talent as the true source of their competitive advantage. Workforce planning is the people equivalent of a financial plan, and is the critical framework of an organization's business strategy.
Strategic Workforce Planning will guide CEOs and executive teams to identify which roles are critical to the delivery of a company's strategy, and what kind of people are needed to achieve business goals. In addition, executives and HR professionals will understand the necessary capability and capacity to deliver on a strategy, and the right ways to spend a "people budget."
About Aruspex
Aruspex delivers strategic workforce planning solutions that help organizations design and attain their future workforce. Our intuitive CAPTure planning software goes beyond simple reporting; it analyzes internal and external demographic trends, identifies future workforce gaps and guides executives and HR professionals to solve different scenarios. The Aruspex model was developed through years of practical experience, and we are passionate about workforce planning. For more information, visit http://www.aruspex.com.
This press release was distributed through eMediawire by Human Resources Marketer (HR Marketer: http://www.HRmarketer.com) on behalf of the company listed above.
###