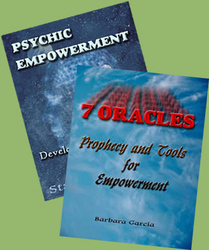 The recent events in the world have left the human race to search for answers. More and more evolutions of spirituality are occurring and people want answers, as they themselves know that something is going on that is greater then themselves
(PRWEB) September 27, 2007
If you could change your past, would you? This author tells you how in 33 pages. Barbara Garcia explains both scientifically and metaphysically how we are all connected to this planet and universe. Through the eyes and mind of a psychic known for astonishing work in criminology such as "The Hillside Strangler Case" and years of work in both field and laboratory settings, Garcia guides the reader through new dimensions of altered realities.
Global prophecies are revealed while guiding the reader to remember their original blue print and purpose. "The recent events in the world have left the human race to search for answers. More and more evolutions of spirituality are occurring and people want answers, as they themselves know that something is going on that is greater then themselves," said Garcia.
7 Oracles is an extraordinary new book release. Self-published by Starmerge.Com, 7 Oracles is bound to attract high end sales and new distributors covering Metaphysical, New Age, and Self-help books, Publishing and Libraries.
Psychic Empowerment ISBN 0-9798296-1-5 is a practical, step-by-step work book that guides you to develop your intuitive sense through your own analysis. The lessons refine intuition into a life-enhancing tool that can be used every day and in every aspect of your life. It is also noteworthy that published articles written by the author are associated with the lessons in this work book, benefiting its particular excellence and uniqueness.
This work-book publication is a good companion to 7 Oracles, Prophecy and Empowerment or can be used alone. You can work at your own pace through remote viewing, dowsing, automatic writing, and derma optic perception.
Contact:
Richard Garcia
Phone/Fax: 714-528-0407
7 Oracles, Prophecy and Empowerment ISBN 0-9798296-0-7
###