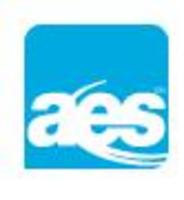 These websites are among the world's best resources for students, parents, college graduates, counselors and postsecondary schools
Harrisburg, PA (Vocus) September 27, 2007
American Education Services (AES) today announced that both aesSuccess.org and YouCanDealWithIt.com have won Standard of Excellence awards from the Web Marketing Association's international WebAwards competition. The 2007 WebAwards recognize websites of merit in 96 industry categories with entries submitted from more than 33 countries from around the world.
"These websites are among the world's best resources for students, parents, college graduates, counselors and postsecondary schools," notes Dick Willey, AES President and CEO. "We offer a vast amount of helpful and money-saving information in a user-friendly, feature-packed format - - allowing visitors easy access to all the information they want and need."
AES' newly designed national website, aesSuccess.org, offers extensive financial aid information for students, families, schools and financial aid administrators, including online applications for loans, repayment tools, and access to information and resources for the higher education community. Both the Account Access feature, which allows students and borrowers access to their student aid accounts and information 24/7, and the postsecondary School Portal log-in are available on the site's homepage. The site offers easy to navigate menus to assist students and families with their higher education planning needs.
YouCanDealWithIt.com is the AES debt management website. The site offers student loan borrowers information, tools and practical advice on how to deal with everyday financial situations. It helps them understand their student loan commitment, financial budgeting and advantages and dangers of credit cards.
American Education Services
American Education Services (AES) is among the nation's leading providers of student financial aid services. Each year, AES serves millions of students and thousands of schools through its loan guaranty, servicing, and financial aid processing systems. As a nonprofit enterprise with $94 billion in assets under management (1/31/07), AES channels its earnings into a wide array of public service programs and initiatives that help ease the financial burden of higher education.
Focused on guaranteeing the next generation of leaders, thinkers and doers, AES is a pioneer of pro-student products and services, such as its Zero Guaranty Fee Policy and low-cost student loans. From early awareness, to managing the financial aid process and sound student debt management, AES is a trusted source of information and advice for students, parents, school counselors and financial aid offices across the country. AES is also the home of the award-winning college-planning Website EducationPlanner.org, as well the debt management resource YouCanDealWithIt.com. For more information, please visit us at http://www.aesSuccess.org
###