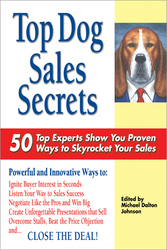 Your company will save over $50,000 a year with our product
Carlsbad, CA (PRWEB) September 28, 2007
When salespeople are called upon to close more sales, managers often hear a litany of excuses for non-performance. "These leads are horrible." "I can't get through their voice mail." "Our price is too high." Yet top producers manage to sell under the same conditions.
"Poor sales performers are usually not aware that little things make a big difference in closing the sale," says Michael Dalton Johnson, Editor of the bestselling new book, Top Dog Sales Secrets. Johnson cites five common reasons for poor sales performance.
Insulting the buyer's intelligence. "'Mr. Jones, would you like to save money on your long distance phone bill?' Polling prospects with lame questions in an attempt to get them to say yes is manipulative and insulting and buyers resent it," says Johnson. "Instead, ask open-ended questions to discover their needs. Treat them with respect by tailoring your questions to their company, industry and circumstances."
Not enough information. Top sales professionals take the time to visit the website of their prospect's company. "Check out their competition, industry association and trade journals," advises Johnson. "Read your prospect's bio if you can. Find it online," he adds. "Remember: the more you learn, the more you earn. If you do not understand what your prospects do, and what issues they face, how can you expect to determine how your product or service can best help them?"
Misdirected sales pitches. Oops! Here again, salespeople fail to do their homework, and end up pitching someone who has no decision-making authority. "This hurts," says Johnson, "because it is usually hard to get a second bite of the apple."
Poor listening skills. Most poor-performing salespeople are far too busy talking to listen effectively, according to Johnson. Sales stars pay attention to what their customers are saying and how they are saying it, including their non-verbal communication. Good listening skills provide salespeople with most of the answers to their qualifying questions without even asking them. They learn about customers' needs, what their hot buttons are, and then offer specific answers. "Simply put: when your customer talks, you sell," says Johnson. "When you talk, you lose."
Not answering every buyer's number one question. Buyers want to know, "What's in it for me?" Even in a business-to-business sale, sales professionals need to show prospects what's in it for them personally. How does the buyer personally gain? Will they look good to their boss? Will they save time and effort? Will they make their customers or employees happy? There's a subtle but very important difference between, "Your company will save over $50,000 a year with our product" and "You will save your company over $50,000 a year with our product." "People want to be heroes," says Johnson. "Make it so."
Johnson's advice is excerpted from the bestselling book, Top Dog Sales Secrets, authored by 50 renowned sales lecturers, consultants, and corporate trainers. Top Dog Sales Secrets is available directly from the publisher or from Amazon.com and other online retailers.
About SalesDog.com
SalesDog.com features advice from America's leading sales experts. Their free weekly newsletter has over 25,000 subscribers.
Note to The Editor: For a review copy of the book, contact Tina LoSasso at editor@salesdog.com.
# # #