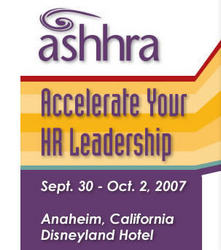 Achieving Work-Life Balance in Healthcare Environments: Does Staffing Really Matter?
Charlotte, NC (PRWEB) September 28, 2007
The changing nature of the workplace and personal obligations puts increasing pressure on healthcare organizations to help employees achieve a healthy work-life balance -- or risk a high turnover rate.
Michael Tatelbame of The University of Chicago Hospitals will join Morehead's Vice President of Research & Development, David Rowlee, Ph.D., to address this situation in a presentation at 1:30 on Sunday, Sept. 30 during the ASHHRA 43rd Annual Conference & Exposition in Anaheim, California. For more information go to http://moreheadassociates.com/events/contents_event12.htm
The American Society for Healthcare Human Resources Administration (ASHHRA), a personal membership group of the American Hospital Association, chose Rowlee and Tatelbame as learning session leaders. Their presentation meets two of the group's HR Leader Model Competencies: HR Delivery and People Strategies.
Rowlee heads Morehead's research department and works directly with client organizations as a senior consultant. In the session, titled "Achieving Work-Life Balance in Healthcare Environments: Does Staffing Really Matter?" he and Tatelbame will use research data from Morehead's work with the University of Chicago Hospitals to show participants:

What most powerfully impacts work-life balance among healthcare employees.
How to implement best-practices strategies to improve employees' perceptions of work-life balance.
How to monitor improvement in the drivers of work-life balance and measure employee perceptions of work-life balance.
"This case study reveals that the solution for work-life imbalance is not always additional staffing," Rowlee said. "We identify drivers that more powerfully influence perceptions of work-life balance among healthcare employees. This is the kind of information that helps organizations form a cohesive strategy for employee retention and satisfaction."
About Morehead:
Morehead conducts predictive human capital research that enables organizations to select and shape human capital initiatives, prioritize systemic change and inform work unit interventions. Through its formalized feedback and analytic systems, Morehead identifies the most powerful attitudinal and behavioral factors that empirically drive an organization's performance, thus reducing uncertainty and enabling good decisions about people. Morehead's clients include healthcare providers, financial institutions, government agencies, universities, service providers and manufacturers. For more information, visit http://www.moreheadassociates.com.
Media Contact:
Ronald J. Bowker
704.926.5221
rbowker(at)moreheadassociates.com
This press release was distributed through eMediawire by Human Resources Marketer (HR Marketer: http://www.HRmarketer.com) on behalf of the company listed above.
###