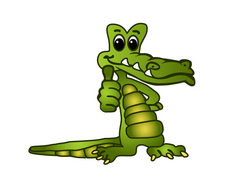 Really cool, Ratergators is a new social site that makes it easy to find people with the same interests as you
Silicon Valley, CA (PRWEB) September 28, 2007
Ratergators.com, a new web service that allows users to rate anything and find out what their friends think, announces its beta launch with a cash and prize giveaway of Apple iPod Touch, bundles of music CDs and movies DVDs.
With Ratergators people and their friends can rate and review their favorite movies, music, TV shows, celebrities, people, gadgets or anything they want and get consensus -- trusted advice -- from their friends on the best. Ratergators also automatically matches users with others who share the same interests, opening up new friend connections.
Ratergators users can rate any item on the site or add their own videos, music or photos and build their own community of like-minded people. In addition to rating, users can store their favorite videos, music, and photos for free and share them with friends and family, allowing them to rate and share the best of their family media.
"Ratergators is the only place to get consensus on the best recommendations from you and your friends," said co-founder and president Steve Harmon. "It's fun to see what your friends think of the latest movies, music and happenings by seeing their star ratings and review comments. Users can upload and rate anything they want and share so the fun is endless."
What people are saying about Ratergators:
"As well as being a great place to share your photos, my mp3 collection, or whatever it is you want to share with your friends online, it is also a great place to network and meet new people".
"You can have a more positive social experience with people that like the same things that you like. Not only that, but once you begin to trust the rating savvy of some of the regulars you can make purchasing and viewing decisions based on those ratings".
"Really cool, Ratergators is a new social site that makes it easy to find people with the same interests as you".
"I'd can quiz my friends to see what they like in movies, music, people, and tv. We can compare ratings and I can learn just how divergent I really am ;)".
Ratergators has developed technologies that enable its community of raters to customize their interests and sharing, as well as its patent-pending 'consensus engine (tm)' that immediately shows users how they and their friends rate anything.
Ratergators is free and users can import anything from the web or keep their favorite videos, music and photos on their own Ratergators web page to share with friends and family.
About:
Ratergators is a social ratings community that allows people to rate and review anything from the web or their own media, share with friends, get consensus and meet new people with similar interests. See http://www.ratergators.com
For press, bloggers and other media, please contact Ratergators at 831-657-9600 or email Rapid Rocket PR.
###