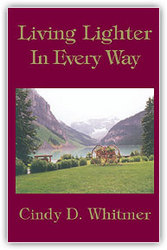 If you have strong purpose and passion behind everything you do and every choice you make, amazing results occur ~ we can be limitless!
Atchinson, Kansas (PRWEB) September 28, 2007
Author, speaker, counselor, and coach, Cindy Whitmer, is launching a new business called "The Inspiration Center." Ms. Whitmer has nearly 20 years experience working with individuals, couples, families, and groups to enhance their lives personally and professionally. Ms. Whitmer supports people of all ages and backgrounds by examining the differences between where they are currently in every aspect of their lives and where they truly desire and deserve to be.
Ms. Whitmer has named her business "The Inspiration Center" because she connects and inspires people to create changes and allows them to believe anything is possible with focus and great intention. She says everyone has awesome potential and tapping into that piece will move people forward and beyond whatever they have imagined could be reality for them. Ms. Whitmer desires to support people in their journey to take their lives and businesses to the next level and beyond their own current thought of human potential by raising their standards.
"We have to find what means the most to us ~ this is our inspiration," Whitmer says. "If you have strong purpose and passion behind everything you do and every choice you make, amazing results occur ~ we can be limitless!" One of the areas Ms. Whitmer focuses on is simplifying all aspects of our lives. She shares in her book, Living Lighter In Every Way, how living authentically involves decluttering not only your physical space, but also your psychological space so you can be clearer about what you really want and must do to live a successful, fulfilling life.
Here's what some have to say about Whitmer's impact:
"Cindy Whitmer has a powerful ability to gently open your mind, heart and soul to the possibilities that lay before you. With her encouragement to lighten many areas of your life, you instantly begin to create anything you wish for. She is a truly caring individual that desires your best!"
~Heather L. Woody
Heather Woody Unlimited, Inc.
http://heatherwoody.com/
"I have personally had the ability to experience much of Cindy's work! I've experienced her passion to live and be in the moment. If expanding your opportunities, creating new alliances, helping more people, and getting more out of every minute of every hour is your goal, then listen to her mastermind at work. Cindy's information is a must if you are seeking a simpler, more meaningful life."
~Randy Gonzales Jr.
President/CEO
Millionaire Partnerships, Inc.
"We all have a mind to think with, a heart to feel with, and a soul to find meaning with," Whitmer says. "When we use these three tools with great respect and trust, inspiration comes, the pieces come together, and life is forever altered for maximum results." Look for Ms. Whitmer to use her writing, speaking, and coaching skills to change the world. "One of my goals to take my life to the next level is to grow my business to such heights I will be able to establish my own foundation and use my earnings to eradicate poverty and disease around the world. We have to be responsible for one another and take care of the Earth as well." She plans to establish her own non-profit organization called, "The Inspired Wealth Foundation," within the next year.
To learn more about Cindy Whitmer's work, visit her blog at cindywhitmer.blogspot.com or check out her website at http://www.thesimplificationguru.com/
###