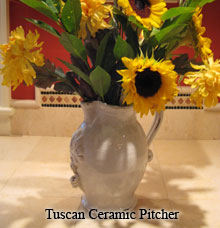 There is a huge demand today for unique artisan items: from completely custom handbags, to fabulous one of a kind pieces of jewelry, or rare decorative items for the home. And with so many people having a passion for authentic, handcrafted ceramics; I'm pleased to offer this gorgeous Tuscan pitcher as the prize in our Drawing
Arlington, VA (PRWEB) September 28, 2007
Bella Figura USA, an on-line purveyor of high end home and fashion accessories, announced today the opening of its 2007 Fall Drawing Registration. The drawing registration gives customers the chance to win a signed, handcrafted ceramic pitcher from Tuscany.
"There is a huge demand today for unique artisan items: from completely custom handbags, to fabulous one of a kind pieces of jewelry, or rare decorative items for the home. And with so many people having a passion for authentic, handcrafted ceramics; I'm pleased to offer this gorgeous Tuscan pitcher as the prize in our Drawing," said Patricia Campbell, president of Bella Figura USA.
Campbell further explained what differentiates the pitcher from other Tuscan ceramics. "In this particular line, the artist has selected a unique blend, a mixture, of clays. He combines and crafts the clay, which is then fired in a wood-burning kiln. It's the unique mixture of clays that produces the rare color. Furthermore, the glaze is crackled, and that's a design characteristic not usually associated with Italian ceramics; but that's what Bella Figura USA is all about - exclusive and unique products."
The Drawing closes on November 10, with the winner to be announced on November 12. According to Campbell, the Fall Drawing will become an annual event as a way to say "Thank You" to customers.
Visit the website at http://bellafigurausa.com/giveaway.htm to register for the Drawing and the chance to win the Tuscan ceramic pitcher.
About Bella Figura USA
Virginia based Bella Figura USA offers its customers luxurious artisinal home and fashion accessories from artists around the globe, and sophisticated distinctive gifts, including a wide selection of eco-chic "green" products. The company is a strong advocate for fair trade practices, and is proud to support independent artisans and small family-owned businesses. For more information on Bella Figura USA, visit http://www.bellafigurausa.com.
Contact:
Patricia Campbell
703-527-2233
http://www.bellafigurausa.com/
# # #