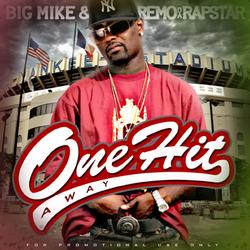 New York City (PRWEB) September 30, 2007
Remo da Rapstar is set to release his latest album "One Hit Away," due in stores October 1, 2007. With his first effort, "Rapstar Phenomenon," Remo experienced tremendous success. The album was hosted by four of the most influential DJ's in the game: DJ Vlad the Butcher, DJ Green Lantern, Dirty Harry and Clinton Sparks. On his latest work, Remo has Big Mike as his primary DJ. However, along with the album Remo is also providing ringtones, wallpapers and digital downloads available for his fans directly from his website http://www.remodarapstar.com.
This past year has been a stellar one for Remo as his list of accolades keeps growing rapidly. In 2006 he took the title of Justo Award Winner for "Best Underground Artist," and joined the ranks of legendary MCs such as The Notorious B.I.G., Common and DMX by being featured in The Source Magazine. Remo also received a 4.5X review in LOUD, Dubai's world famous music magazine, and appeared on MTV's Sucker Free show "Straight from the Streets." Remo has also received rave reviews from publications around the world and is the face of the nationwide advertising campaign for New Era Caps.
Working on the album for the last year, Remo believes he's at a point in his career where he can make the transition from the streets to the fame. "One Hit Away" is a street album with a combination of freestyles, videos and street singles. The album boasts features from a variety of artists including the late Stack Bundles (R.I.P.), Ransom, S.A.S., Richie Sosa and Nina B among many others. The first single off the album is "I Bang" introducing Richie Sosa holding down Toronto, Canada.
"I bang" is a record that touches on the hate that rises as an individual strives to make it to the top and is successful in accomplishing their goals. Once you get to a certain level, people will want to know you down, and you have to be aware of that in order to protect your interest by any means necessary. The video was shot in the Megacity, Toronto and it serves as an introduction for Canadian artist extraordinaire Richie Sosa.
"Keep it Movin" is track 14 on the CD. The track speaks on the importance that hard work and constant grind have toward achieving success. Most people want to get rich at a certain level, but are not willing to go that extra mile or be "go getters" to get there. As Remo's single advertises…You have to keep it moving.
"One Hit away" is a revolutionary street album that symbolizes the rise of an underdog. It brings the fun back to hip-hop, with a high level of diversity in concepts and delivery. All the songs will be available in stores and online with free downloads of music, ringtones and wallpapers. Remo da Rapstar and All City Distribution market, distribute, promote and create the product for the people in the most innovative and ground-breaking ways and this will be the first street album that has corresponding and interactive online downloads for the fans.
On October 1st, along with the album, Remo will also be releasing his two first videos off "One Hit Away" for his two first singles "I bang" and "Keep it movin."
I Bang Video
http://www.brightcove.tv/title.jsp?title=1213806983
Keep It Moving Video
http://youtube.com/watch?v=A5f4yrdcFLk
myspace.com/remodarapstar
One Hit Away Track Listing:
CD Track list
1.I Bang//Richie Sosa: Prod. By Y Not ( SoundSmith)
2. Foundation// Nina B
3. Fresh Remix// Ru Spits ,Stack Bundles,S.A.SProd. By DoeBoy
4. Oh Yeah// Luba Prod. By RickSteel
5. How Does it Feel Prod. Ricksteel
6. People
7. Get it On // Nina B
8. I Just Wanna prod. By Hi-Tek
9. Who Betta
10. Top 8 Maya Prod. By Da Bizness
11. Da Future // Topofdalyne (T.L) and Prada
12. Good Stuff Prod. By Fresh Airez
13. DialTone // Spark Dawg ,Ransom
14. Keep it Movin
15. Larger than Life Prod. By Serge Deff
16. Da Grind // Real A** Nazzine
17. One Hit Away
18. Hard to Move On ( R.I.P Stack Bundles)
19. Thank U prod. By Cool N Dre
20. Earnin // Kissk Prod. By B Roc
21. Like This Prod. By Ron Browz
22. Talk Of NY Prod By Mean Dean
23. My City// Nick Howard// Prod By Neenyo ( soundSmith)
24. Poor Mans Prayer// Nick Howard/! / Prod By Mac (SoundSmith)
DVD Track list
1.I BANG
2. KEEP IT MOVING
3. MIXTAPES ARE DEAD
4. THANK U
5. HUSTLERS ANTHEM
6. ONE HIT AWAY
7. HAPPY FATHERS DAY
8.BALLIN
9. THIS IS WHY I AM HOT
10.DA GRIND
11.DA PEOPLE
12. MTV SUCKER FREE
13. BOWERY BALLROOM PERFORMANCE
###