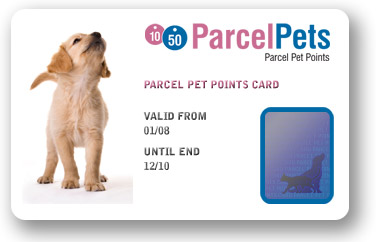 This is a prime example of our continued dedication to our customers, and a perfect way to thank them for their loyalty. This is one of the most generous and flexible schemes around, putting the customer in charge of their own savings
(PRWEB) October 10, 2007
Parcel Pets a leading UK based pet supplies website launches Parcel Pets Points a new and unique customer loyalty scheme which puts the customer in charge of their own savings.
Parcel Pets is quickly becoming one of the best online pet supplies in this country, and this most recent scheme is just one of the reasons why more and more people are making them their number one choice.
Now loyalty schemes and points cards in particular are nothing new, but what makes Parcel Pets Points stand out from the crowd is its flexibility and the amount of points you can earn, giving people real savings on their shopping.
Customers can choose their Super Saver products, either things they regularly buy or their most expensive Pet items, and then they get a whopping amount of points every time they buy those chosen items.
Referring a friend also earns big points, and not only the first time that friend buys, but people will continue to earn points on future purchases that their referred friend makes.
Giving something back has always been top of the agenda at Parcel Pets, and this latest offering is just one of the many examples of why the future is looking bright for them, and for their customers.
"This is a prime example of our continued dedication to our customers, and a perfect way to thank them for their loyalty. This is one of the most generous and flexible schemes around, putting the customer in charge of their own savings," said Terry King of Parcel Pets.
About Parcel Pets
For online pet products and supplies in the UK, Parcel Pets is the site for you. The online shop offers local pet shop service with thousands of pet products to choose from. Find something for a dog, cat, rabbit, hamster, other small animals, birds or fish -- all with home delivery convenience. Parcel Pets stocks 7,500 products, ranging from foods to insurance, bedding to toys, hutches to aquatic supplies. Parcel Pets holds regular special offers and also has amazing deals through its 'clearance warehouse.' The site also features an online vet, and the ability for customers to buy items in bulk for delivery later.
###