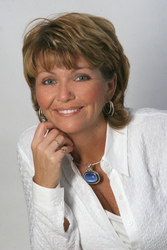 It is my hope to see the world brought together in unity
Lambertville, MI (PRWEB) October 10, 2007
Kimmie Rose's new book, The Bless You Book, was written for a single purpose. Her vision is to encourage all people to reach out to each other and experience our spiritual connection, which can ultimately eliminate hopelessness and suffering one person at a time.
This small, purse-sized book packs a mighty wallop. Filled with a collection of blessings and inspirational quotes, from notable personalities like Patch Adams, M.D., and more, The Bless You Book makes it easier for everyday people to reach out to others using that one perfect saying and together find unity.
The book allows others to join in something she's done for years -- pass out notes of encouragement and blessings to others, ranging from those having a bad day to others suffering on a much deeper level. Kimmie believes that a single loving moment can break through someone's everyday circumstances, create a connection, and empower them to feel the purity of love. Once encountered, this changes their lives.
The Bless You Project was born out of Kimmie's own personal trauma. "I had a near death experience that really inspired me to write this book and planted the seed of a larger project," she said. But a wider shared experience influences the project as well. "We live in a time where negativity is everywhere," Kimmie said. "Millions of people go to jobs they don't enjoy or find meaningless. They go home to children they cannot connect with and spouses they no longer know. Countless others feel separated from those around them, a feeling of disconnect that can lead to despair and hopelessness. Too many people feel alone in this world. I want people to understand that they are not alone. We are connected to one another. We are one."
To participate in this life-changing, and life affirming, book and project, please visit http://www.kimmierose.com or http://www.theblessyouproject.com. All people need to do is share a personal story of connectedness - how they have been blessed or how being blessed has inspired them to reach out to someone else.
KimmieRose.com also contains information on Rose's other services: self help CDs, classes, seminars, private consultations and her popular radio show "Innerviews" on http://www.achieveradio.com every Thursday night at 8PM EST.
"It is my hope to see the world brought together in unity," Rose said. "I truly believe that by simply reaching out and changing the heart of one person, we can create a ripple effect of love and compassion that has no limitations as it moves through all of humanity."
###