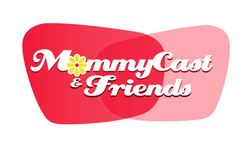 MommyCast Family & Friends Channel
Washington, D.C. (PRWEB) October 15, 2007
MommyCast® is launching a motherhood & family-oriented audio and video podcast network at Podango called the "MommyCast and Friends Family Channel." The move is part of a multi-station deal with show producer KDCP Networks, LLC, an affiliate of MommyCast production company, KDCP Productions, LLC.
Under the agreement, KDCP Networks will develop the motherhood- and family-oriented audio and video podcasts at Podango, the online video and audio network that enables publishers and companies to "get heard" by today's hard-to-reach, niche audiences.
Co-hosted by Gretchen Vogelzang and Paige Heninger -- and sponsored by Dixie Paper Products Company, among others -- this motherhood-oriented audio and video podcast show is highly regarded, say its creators. The network is for moms aged 25-54, and offers valuable information on community, health, home products, food and nutrition, education, technology and music.
"We are thrilled to welcome Gretchen, Paige and the podcasters on the 'MommyCast and Friends' network to Podango," said Podango President Doug Smith. "The jewel of family-oriented, new media programming, MommyCast will bring an unprecedented sensibility of family programming and new media to Podango."
MommyCast producer Paul Vogelzang added, "Our partnership with Podango gives our program access to Podango's superior platform tools and services that will facilitate new "MommyCast and Friends" programming and reach an even larger, online audience while promoting family friendly independent content of the highest quality."
About Podango:
Podango is a new media broadcast platform that enables podcasters and advertisers to build audiences and connect with hard-to-reach, niche market segments. Supporting such hit shows as "The Apple Phone Show" and "MommyCast Family & Friends Channel," Podango hosts more than 1,000 video and audio shows -- including a number routinely found among the top 25 podcast shows on iTunes -- on a wide variety of interests and topics. The company's innovative Web broadcast platform features diverse shows distributed through a sophisticated set of syndication tools. Audio and video show hosts producing their own series of episodic video and audio content also share advertising revenue. In today's increasingly fragmented marketplace, the broadcast platform provides advertisers with the highly targeted audiences and immersive content opportunities critical to the success of business and consumer brands. The company also owns and operates its own state-of-the-art audio and video broadcast production studio in the Bay Area.
About MommyCast:
Started in March, 2005, MommyCast® has been featured in the Hollywood Reporter, Washingtonian Magazine, BusinessWeek, Variety magazines and the USA Today. Paige and Gretchen of MommyCast have also been interviewed by CNN, NBC, the BBC, Brandweek and the Wall Street Journal. It holds the distinction of being one of the first independent podcasts to land a major corporate sponsorship, which came via Dixie Paper Products Co., who continue to sponsor it to this day. They have also established themselves as a member of the Buena Vista Entertainment Press Corps and are sponsored by Disney Co., and the Walt Disney Studios for family fare DVD movie releases. MommyCast was the first to do an enhanced podcast review of a movie, "March of the Penguins," released by Warner Independent Pictures. In addition, it is proudly represented by The Endeavor Agency, Hollywood, Calif. MommyCast recently won the 2007 Webby, "Best Family & Parenting" site, and is currently launching a motherhood-oriented audio and video podcast network.
Media Contact:
Gretchen Vogelzang and Paige Heninger Spokesperson: Paul Vogelzang: phone: (703) 476-0604
###