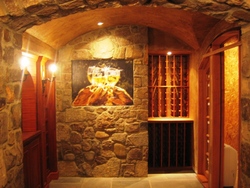 People can store their wine collections in our tightly secured, climate-controlled wine storage facility, and not have to worry about it until they need it. They can come and go as they want, and the different sized lockers meet any need. You can even drive your truck right into the warehouse to unload
Greenville, SC (PRWEB) October 2, 2007
An unmet need in the Carolinas and surrounding areas gets an answer from a local, family-owned wine storage company. Restaurateurs, retail store owners, and end users need a secure place to store their inventories and valuable wine collections, and Kessick has come up with the perfect solution.
Kessick owner Robert Bass has talked with restaurateurs, wine collectors, and retail wine stores about the need for a place to keep their wine properly stored in a secure, climate-controlled location until it is needed. Restaurant and retail store owners sometimes need room to store large quantities of wine, but they need quick and easy access to it. Building a wine cellar takes between 6-12 weeks, and so wine collectors who want to move their collections to a 2nd or 3rd home need somewhere to store it until their wine cellar can be completed.
Kessick's new 3,400 square foot showroom and warehouse is the site of the wine storage facility. The facility houses various sized wine lockers. A state-of-the-art wine cellar climate control system cools the vault and keeps valuable wine at its most optimal temperature and humidity. Security cameras add extra security. Customers are able to rent lockers from a few cases up to pallet-sized lockers, and can rent on a monthly, quarterly, or yearly basis. An elaborate stone display leads into the vault through a locked door.
"People can store their wine collections in our tightly secured, climate-controlled wine storage facility, and not have to worry about it until they need it. They can come and go as they want, and the different sized lockers meet any need. You can even drive your truck right into the warehouse to unload," says owner Robert Bass.
Kessick began in 2005 as a company specializing in meeting the needs of people in the market for personal wine storage and wine cellars. Later that year, Kessick.com was created and Kessick partnered with WineRacks.com to create the only dedicated wine cellar installation service in South Carolina. Kessick also specializes in custom wine furniture and wine storage displays.
Kessick has built wine cellars for homes in communities such as Cliffs Valley, Cliffs Glassy, Cliffs Keowee Vineyards, Cliffs Keowee Falls South, The Reserve, Cliffs Mountain Park, Thornblade, Cobblestone, and Cliffs Walnut Cove, and Chanticleer. In addition, Kessick has helped many restaurateurs and retail wine stores with their wine storage needs. These include Mountain Oasis in Cashiers, NC, Bin112 in Greer, Devereaux's and American Grocery in Downtown Greenville, Azia in Greenville, City Range in Charlotte, Coal Fired Pizza, Carriage House Wines in Spartanburg, and Tropical Wine & Spirits in Simpsonville. Kessick has an extensive photo gallery on their website.
Kessick works directly with homeowners, designers and architects, builders, and restaurateurs to design, build, and install wine cellars and wine storage. Kessick serves the Upstate of South Carolina, Western North Carolina, and also provides services nationally. From an aesthetic wine cellar display to truly functional wine storage, Kessick can create the perfect environment.
Kessick's new showroom is located at 319 Garlington Road, Suite C-2 and also on the web at http://www.kessick.com. Contact Kessick at (864)297-1911 for details on their grand opening.
Jessica Hall, Operations Manager
Kessick Fine Home Products
(864)297-1911
Kessick.com
###