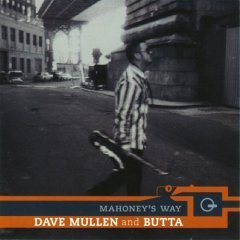 (which could easily find its way onto a Groove Collective release. The ratio of instrumentals to vocal tracks are split right in the middle, and while Mullen's take on Stevie Wonder's 'As' is quite good, it is
New York, NY (PRWEB) October 1, 2007
From the label that brought you Brian Jackson's "Gotta Play" Roberts Music Group has launched, for special re-release, the CD entitled "Mahoney's Way" by Boston's own Dave Mullen & Butta. "Mahoney's Way" which was originally available in May of 2006, is the brainchild of Dave Mullen, Saxophonist, composer, and producer (AKA Mahoney).
Dave truly is a unique voice on his instrument, blending a long lineage of players into a vital and original style. He continues to push the envelope with his unique musical vision, which is apparent on this project "Mahoney's Way". The CD features such musical heavyweights as, Nile Rodgers, Marc Ribot, Mark Egan, and Victor Jones. It's rare to find such talent in today's market place.
Reviews
"You want some funk with that jazz? Then don't hesitate to pick up Mahoney's Way (Roberts Music Group) by Dave Mullen & Butta. Mullen's music and sax works is reminiscent of mid to late 80's Prince, or more specifically the sax work of Eric Leeds. He is able to play a bit of quiet storm when he wants, but seems to love getting down and playing for the fun of it, whether it's a mid-tempo ballad or something to move a dance floor, as is the case with Latin/hip-hop tinged "Squid" (which could easily find its way onto a Groove Collective release. The ratio of instrumentals to vocal tracks are split right in the middle, and while Mullen's take on Stevie Wonder's 'As' is quite good, it is "Lost Souls" that is the best vocal track on the CD. As with 'As', 'Lost Souls' features the vocals of Lisala Beatty, whose voice reminds me of all of the comforts of home. Here, Mullen moves to the background briefly but compliments Beatty's voice in fine form.Mahoney's Way can fit any mood.... He can easily fit in with a style similar to David Sanborn, but can get more bop-friendly in a Michael Brecker fashion, without losing any strength in either," by da bookman Buzz Grinder music news.
"David Mullen on tenor and soprano saxes comes equally from the Dave Sanborn and Gato Barbieri schools of phrasing and rhythmic pulse, and has a melodic sensibility on par with Stan Getz as a young musician," said Tom Jurek, All Music Guide (AMG).
A wonderful project that includes must titles written by Mullen, and an excellent re-make of Stevie Wonder's "As"...and I love the "Like Rashaan" ..."It's apparent that Dave Has been influenced by some of the best. A great CD that could change the direction of modern Jazz," said Ray Boyd - Director of Global Programing - WorldSpace Corporation.
###